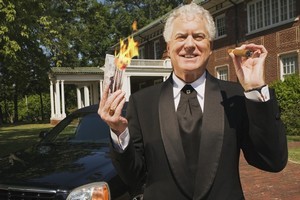 I was lining up with the time-rich, waiting.
"Do you think", one of my queue buddies asked me, "it's hard to get $1 million?"
My gut instinct was to knock this conversation on the head immediately and tell him that, yes, it was pretty hard to get $1 million and in his case, impossible.
But he seemed genuinely hopeful, so I hedged.
"Well, you know, money's generally difficult to come by but...." I had nothing further to add, no helpful statistics to hand that might've given him some insight into his chances of making a million bucks.
Today, I would've referred him directly to the Capgemini/Merrill Lynch Global Wealth Management report that reveals, amongst other interesting details, there are approximately 10.9 million millionaires in the world now out of a total population of close to 7 billion people.
"Your millionaire chances don't look good, buddy," I would've said, "keep queuing."
Actually, the proper term for millionaires these days is High Net Worth Individuals (HNWI). According to the Capgemini definition, a HNWI is someone who can claim US$1 million in assets excluding "primary residence, collectibles, consumables and consumer durables".
Over 2010 the number of HNWIs globally grew by 8.3 per cent while their financial wealth appreciated by 9.3 per cent. The GFC has been good to the HNWIs.
"The 2010 increase was still enough to push global HNWI financial wealth up to US$42.7 trillion, beyond the pre-crisis high of US$40.7 trillion in 2007," the Capgemini report says.
That's nice.
Your average HNWI has his (don't accuse me of sexism, about 75 per cent are men) worries, though.
"Normalcy began to return in 2010 but legacies of the crisis were evident in financial hotspots and gaping fiscal deficits," the report says.
Normalcy? What's that?
For HNWIs, normalcy now includes "investments of passion", which Capgemini reports are in demand: "Individual preferences play a large part in HNWIs' decisions to commit to investments of passion, especially given emotive variables such as aesthetic value and lifestyle/status appeal."
Good for them.
Even better news for the Ultra High Net Worth Individuals (UNHWI) - worth US$30 million excluding all their petty personal assets, food in the fridge, fridge etc - whose population swelled by 10.2 per cent in 2010 while their wealth was up 11.5 per cent.
"As a result, Ultra-HNWIs accounted for 36.1% of global HNWI wealth, up from 35.5%, while representing only 0.9% of the global HNWI population," Capgemini reports.
By my rough calculations then, approximately 100,000 people control about US$15.4 trillion between them.
But HNWIs have their problems, too. Presumably, even some of them may wonder, while queuing, if they will ever be a UNHWI.