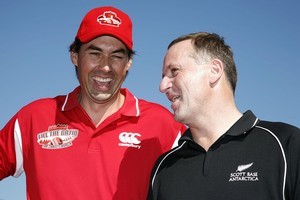 When Prime Minister John Key steps off the plane in New Delhi next week, beside him will be his best weapon - former Black Caps captain Stephen Fleming.
Fleming's participation on the three-day state visit to India is part of an Government use of sporting stars to help bolster international relations.
Next month, former All Blacks Jonah Lomu and Michael Jones will join Murray McCully's annual Pacific Mission.
Lomu's first visit to Tonga in several years is expected to generate a high level of interest.
Mr Key invited Fleming on the India trip, which will be the Prime Minister's first official state visit to the country, to raise the profile of the delegation while in India.
The trip will include about 25 business delegates and is aimed at building relations with India as the two countries negotiate a free trade agreement, estimated to increase two-way trade from $1.3 billion to $3 billion by 2015.
Cricket is India's most popular sport and considered so important that fostering cricket links is included as part of the formal strategy for New Zealand's relationship with India as the two countries negotiate a free-trade agreement.
Fleming - who coaches IPL champions the Chennai Super Kings - said he hoped his presence would attract attention.
"During the IPL, it's fever pitch, so I hope we can create some interest by involving cricket.
"If it can create a bit more noise and attention on why we are there, that's got to be good.
"So for once, I hope I can create as much attention as possible.
"Bollywood, cricket and religion are the three biggest things in India. With them winning the World Cup, cricket is flavour of the month."
In India, cricket and business are closely linked.
Some of the wealthiest people in the world are owners of IPL teams and several New Zealanders now play for them.
"The fact cricketers are going to their places for dinner and being introduced to these high-powered people is too good an opportunity not to explore," Fleming said.
"The popularity and reputation of our players puts us in a good position to at least explore the trade connections that could come out of the sporting relationship."
But Fleming said the trip would not be all business - he was hoping to get Mr Key into the batting pads during a stadium visit.
The former NZ skipper coached Mr Key to face an over from Australian spinner Shane Warne for a Christchurch fundraiser match this year.
"John was so enthusiastic about his cricketing ability after facing Shane Warne, I think he wants to get some international runs."
The chairman of the India NZ Business Council, Wenceslaus Anthony, said the importance of sport should not be underestimated.
One wealthy Delhi businessman attended a recent business council-organised event only because former New Zealand cricketer Richard Hadlee was there.
"Anything we have in common is good. So the strategy is strong - use Bollywood, use cricket and quietly slip in business," Fleming said.
Foreign Minister Murray McCully also put some weight on sporting diplomacy, saying it was an effective - and cheap - way of building good will.
He said having Lomu and Jones accompanying him on the trip to Tonga, Samoa, the Cook Islands and Niue next month would foster relations with the Pacific Islands before the Rugby World Cup, for which the two former All Blacks are volunteer ambassadors.
Mr McCully said sportspeople were often generous with their time when asked to help support NZ Inc.
The owners of the corporate cricket teams were enormously wealthy, and a shared interest in cricket could give New Zealand an edge over other countries rushing to India's door.
"We don't have size on our side so we have to have to find other avenues to appear relevant. Cricket is one of those."