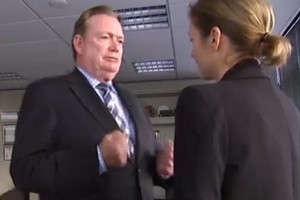 Embattled employers association chief Alasdair Thompson has issued an "unreserved and unqualified" apology for suggesting women's periods affect their productivity in the workforce.
Mr Thompson sparked outrage when he said once-a-month "sick problems" cause women to take days off work.
He later started a fiery confrontation with Campbell Live reporter Mihingarangi Forbes when she questioned him on his statements.
His apology issued this afternoon acknowledged his words were offensive and poorly chosen.
An initial discussion on women in the workforce disintegrated into facile observations that did a disservice to a very serious matter, he said.
"I apologise for my poor choice of words and bad judgment during the discussion about gender and productivity in the workplace.
"I raised issues that were misplaced and irrelevant to the discussion.
"I realise my remarks offended many people."
Mr Thompson said he had been taught a lesson by the reaction to his statements.
He did not offer to resign or retract his original claims on "sick problems" keeping women away from work.
"Although this experience has been very painful to me, it has also served as a valuable lesson - one I shall never forget."
The apology comes as major corporate members of the EMA pile on pressure for Mr Thompson to be sacked at an emergency board meeting on Monday.
EMA board chair Graham Mountfort had called the meeting to discuss Mr Thompson's comments.
Board member Laurie Margrain said he expected the board members to act "decisively and robustly".
He had already received two calls from major corporate members of the EMA, who spoke out against Mr Thompson's comments.
"I was certainly left with no illusions as to how they feel. They feel very similar to myself.
"Considerable considerations have to be given to major corporate who are members.
"This is not a matter that can be left to die a natural death."
Mr Margrain would not reveal the identity of the major corporates who had spoken out.
He last night told the Herald what Mr Thompson said was indefensible - "totally out of call, completely inappropriate and certainly inaccurate".
Mr Peterson said Mr Thompson was still at work for the EMA today, but would not be returning calls.
He would be issuing a statement this afternoon apologising for his actions and statements yesterday, Mr Peterson said.
Last night, Mr Thompson's wife, Joan, stood by her husband of 40 years, saying he was "absolutely not sexist, not a dinosaur, he absolutely believes in equal pay for equal work".
Mrs Thompson said she had never taken sick leave for menstruation, but their daughter was "totally different".
Meanwhile, her husband went back on radio to say sorry.
"Please accept my personal apologies; my heart is pure on this matter. I'm a reasonable and damn good employer and I promote that for all other employers too," he said.
But he did not back down from his earlier comments.
"I know, we know, every employer knows, that many women suffer terribly. Most take tablets for it and don't take two or three days off monthly, but it happens."
Mr Thompson's comments drew widespread criticism from sources as varied as National MP Tau Henare and 3 News presenter Hilary Barry.
The topic was among the most popular on Twitter for most of the day.
Barry said: "Feeling hormonal. Might go home."
Mr Henare: "Aliosdair you may have to think seriously about where you go with this. Apologise and move on."
* Watch the full interview here.