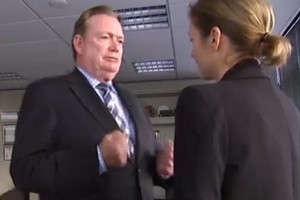 Under-fire business leader Alasdair Thompson and a female journalist clashed in a fiery stand-off on television last night over his claim that menstruation affected women's productivity.
And later in the night, his job appeared to be in jeopardy after a board member of his Employers and Manufacturers Association (Northern) said it would be meeting to discuss his future with the body.
Mr Thompson, the association's chief executive, had said on radio that he advocated equal pay for equal productivity, and women should be paid according to their productivity.
But among many factors affecting work, unproductive men were more likely to end up in jail as "testosteronic" criminals, while women - well, "it's such a sensitive area", Mr Thompson said.
He suggested that once-a-month "sick problems" were a factor that affected work only for women - a comment that caused outrage on social networking sites and in Parliament.
Later, a Campbell Live interview with reporter Mihingarangi Forbes began well - in the unedited version, Mr Thompson asked how his hair looked, and the journalist replied, "Perfect".
But 24 minutes in, Forbes asked: "When someone is sick here, do you ask them why are they sick, and they tell you, because of heavy period pains?"
Mr Thompson walked away in a huff.
"What? I'm asking you a serious question," Forbes said.
"No you're not," Mr Thompson replied.
He said he had already responded to the issue.
"Okay. Maybe you should resign then, because you can't represent half the population - women," Forbes responded.
Mr Thompson asked: "Did you come into this meeting thinking that?"
He walked over to Forbes and stood over her.
She said, while taking a step back: "No, I'm just telling you because you don't really represent me very well as a female ... You think I'm less productive ..."
Mr Thompson cut her off, saying that he had already told her the opposite. "Don't put words into my mouth. You're lying to me..."
He then returned to his seat, and after a short exchange, asked when the interview would start again.
Forbes said the interview had been going the whole time: "You walked away, walked around, came back, stood in my face, yelled at me and sat down again and now you're saying you're back on record."
A Campbell Live text-messaging poll after the interview received more than 10,000 responses - 86 per cent calling for Mr Thompson's resignation and 14 per cent supporting him.
EMA board member Laurie Margrain last night said he had not heard Mr Thompson's comments but had seen media coverage of them.
He said they were indefensible - "totally out of call, completely inappropriate and certainly inaccurate".
Mr Margrain said the board would be meeting to discuss the comments and Mr Thompson's future at the association.
"I can't speak for the other members of the board or the chairman, but I have strong personal views on the matter," he said.
Last night, Mr Thompson's wife, Joan, stood by her husband of 40 years, saying he was "absolutely not sexist, not a dinosaur, he absolutely believes in equal pay for equal work".
Mrs Thompson said she had never taken sick leave for menstruation, but their daughter was "totally different".
Meanwhile, her husband went back on radio to say sorry.
"Please accept my personal apologies; my heart is pure on this matter. I'm a reasonable and damn good employer and I promote that for all other employers too," he said.
But he did not back down from his earlier comments. "I know, we know, every employer knows, that many women suffer terribly. Most take tablets for it and don't take two or three days off monthly, but it happens."
Mr Thompson's comments drew widespread criticism from sources as varied as National MP Tau Henare and 3 News presenter Hilary Barry.
The topic was among the most popular on Twitter for most of the day.
Barry said: "Feeling hormonal. Might go home."
Mr Henare: "Aliosdair you may have to think seriously about where you go with this. Apologise and move on."
View full video here
- additional reporting: NZPA