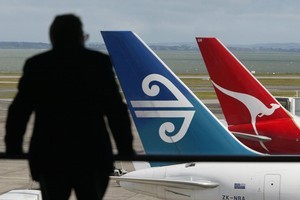 National carriers on both sides of the Tasman are crying foul over rumours as airline passengers battle the havoc caused by a volcanic ash cloud.
In an email to staff this week Air New Zealand chief executive Rob Fyfe said behind the scenes the carrier was battling a series of malicious rumours that it had six aircraft in a hangar with ash damage, another grounded in Australia and one requiring a nose cone replacement.
All the stories were a complete fiction, Fyfe said.
"Then at the end of the week, Qantas [chief executive] Alan Joyce sent an email to Qantas' eight million frequent flyer customers, trying to justify the decision by Qantas to ground many of its aircraft while all other airlines were flying and implying that airlines like Air New Zealand and Virgin Australia were operating unsafely."
In that email Joyce said: "As a valued frequent flyer I want to let you know why we have made these decisions when other carriers, including Virgin and Air New Zealand, have continued to operate."
But a spokesman for Qantas said no one at the airline, including Joyce, had said or implied at any point that other airlines were operating unsafely.
"We have simply stated our policy and noted that other airlines have their own processes," he said.
"We have also had to defend ourselves against false and cynical suggestions that cancelling flights for safety reasons is somehow a cost-saving measure, when in fact safety has been the only factor in our decisions and the disruption will come at significant cost to Qantas."
Qantas in a profit update this week said the disruptions from the volcanic ash were estimated to have cost the group A$21 million.
Sydney-based Macquarie analyst Russell Shaw said the ash cloud situation had heightened existing tensions between Qantas and Air New Zealand.
"They're pretty aggressive competitors on the Tasman," Shaw said. "You've seen from the press releases that they've been quite happy to have jibes at each other, which is all part and parcel of the international airline business."
Airlines that had kept flying during the ash disturbances, such as Air New Zealand, would have their reputations enhanced "as long as no planes fall out of the sky", Shaw said. "I wouldn't say [not flying] lessens the brand," he said. "It just means that people are more likely to book Air New Zealand over Qantas if there is uncertainty over ash clouds."
NZX-listed Air New Zealand's share price closed down 2c yesterday at $1.12, while ASX-listed Qantas closed down A3c at A$1.80.
David Fraser, an analyst with Nomura Australia, said the ash cloud may have helped strengthen the Air New Zealand brand in the minds of Kiwi travellers, but it would have much less impact on those in Australia.
However, Fraser estimated continuing disruptions this week could cost Qantas Group another A$40 million to A$50 million on top of the A$21 million the airline had already disclosed.
Goldman Sachs head of research Marcus Curley said continuing to fly would be of financial benefit to Air New Zealand.
"They have highlighted higher fuel cost from having to fly at lower altitude but at this stage we'd probably expect the higher loads and yields to be offsetting the higher costs," Curley said. "So probably a net beneficiary, hard to work out by what magnitude."
Jetstar Group chief executive Bruce Buchanan said other carriers were operating in similar ways to Qantas and a huge number of flights had been cancelled by competitors in the Australian market-place.
"One would expect also that Qantas being the airline with the best safety reputation of all airlines in the world would err on the side of caution more than any of the other airlines," Buchanan said.
"I can't comment on their [other airlines] internal risk management processes.
"All I can say is I have complete confidence in our processes around safety."
DISRUPTIONS
* Since the ash cloud disruptions began around June 12, Air New Zealand's share price climbed from $1.04 to $1.14 on Wednesday this week, before dropping 2c to close at $1.12 last night.
* Over the same period Qantas' share price has dropped from A$1.89 to A$1.80 last night.
* Qantas announced this week that as at June 20, the ash disruptions had cost the airline A$21 million.
* One Australian analyst estimates that further disruptions this week may cost Qantas a further A$40 million to A$50 million.