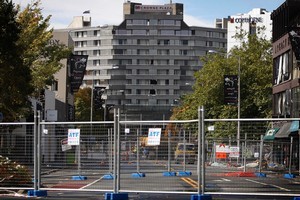 Workers at Christchurch's quake-torn Crowne Plaza Hotel are still being paid, four months after it shut.
But how much longer that will continue is unknown as experts from structural and civil engineering consultancy Holmes finish geotechnic and building stability investigations. These will help determine whether the building is to be demolished.
Glen Boultwood of the hotel's owner, Eureka Funds Management in Sydney, said Holmes was yet to finish investigations. Wages had been paid since February when the hotel was damaged.
Eureka has property worth A$3.5 billion ($4.3 billion) and specialises in hotels. Boultwood said there were no immediate plans to change Christchurch wage payouts.
"We're still going through the process of detailed structural assessments so we don't have an answer yet and that might be delayed further after last Monday. For us, it's more about the staff over there. We've been lucky to keep the staff on," he said.
Redundancies have ravaged Christchurch and particularly the quake-hit hotel sector. The Holiday Inn City Centre and Holiday Inn on Avon announced layoffs three months ago and redundancy entitlements have not been paid out in some cases.
Boultwood said Crowne Plaza would be shut until the end of next year. Eureka bought it in 2008 and the property is worth at least $40 million.
"The building has suffered some structural damage so it's not just the foundations and that's why it's such a long process," he said, adding that Eureka had full insurance.
Buying properties overseas carried a range of risks, including currency fluctuations and Eureka was aware of these risks when it bought in New Zealand, he said. Whether the building would be condemned was Holmes' call. Graham Wilkinson, a Christchurch consultant, expects Crowne Plaza to be demolished.
He is body corporate chairman at The Westin Auckland Lighter Quay who advises hotel investors throughout New Zealand. He predicted Eureka would prefer an insurance payout to fixing the hotel.
"Eureka will be hoping it is condemned. Neither Christchurch nor Wellington has worked for Eureka. [It] just shows how tough the hotel game is in New Zealand," Wilkinson said, referring to Eureka's moves to sell the $60 million InterContinental Hotel Wellington.
Jones Lang LaSalle Hotels national director Dean Humphries has been appointed to run an international marketing campaign for the Wellington hotel.
"Despite the earthquake, investors remain focused on Australasia. However, with the recent events in Christchurch investors are tending to refocus more on the physical elements of the asset in conjunction with the financial performance of the asset."
Humphries said it was important buildings met modern building standards and seismic requirements. Despite Brisbane's horrific floods this year it was still a hot spot for foreign and domestic investment.
CROWNE SAGA
* Shut since February.
* Formerly Parkroyal Hotel.
* Corner Kilmore/Durham Sts.
* Owned by Australia's Eureka.