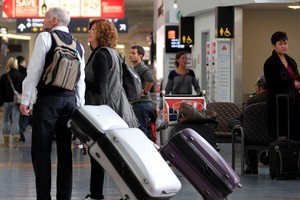 It's the biggest sporting event the nation has hosted - but the Rugby World Cup will be only the third-busiest tourism period of this year, says a Government report.
The Ministry of Economic Development's tourism research arm says in its preliminary forecasts that the tournament period will have fewer visitor arrivals than Christmas and late summer.
"The anticipated volumes still sit comfortably below the levels during the peak tourism season in February and March, and well below the Christmas peak in December," it says.
Visitor arrivals to New Zealand during the Cup are projected to be at most about 9000 a day, less than two-thirds the Christmas peak at 16,000. February has a peak of about 11,000.
The Cup is expected to push up arrivals in the quiet October period to just beyond the levels of early July.
"We need to extinguish the perception that the whole country will be full throughout RWC 2011," the report says.
"Some regions will be at or near capacity on some days, but there will be a lot of excess capacity at the national level throughout the event.
"New Zealand needs to deliver an outstanding event to maximise the benefits of RWC 2011."
New Zealand should have no problem coping with the influx of visitors.
More than 193,000 international visitors were in the country in February 2008 and only 93,595 in October, suggesting plenty of spare capacity during the World Cup period.
"These figures indicate that New Zealand could host at least 100,000 additional visitors each day in September and October without exceeding peak season demand levels."
Visitors would also be spread around the country during the first half of the tournament. "RWC 2011 will be a truly national event during the pool phase," the report says.
Another document shows the number of World Cup visitors in Auckland hovering around 5000 during September and peaking at 40,000 for the finals - nearly reaching the 44,000 visitors staying in the city on an average night.
The Te Puni Kokiri presentation, provided to the Herald under the Official Information Act, includes day-by-day projections for the entire six-week tournament.
The first major peak is 15,000 visitors on October 1, when England play Scotland at Eden Park.
Until that week, international World Cup visitor numbers will remain below 10,000, but visitor numbers will grow during October.
The Ministry of Economic Development recorded 16 million international visitor nights in Auckland during 2009 - averaging out to 44,000 a day.
However, analyses of the 2003 World Cup in Australia found the average Cup visitor spent more money per day than tourists at other times, even if the length of stay was shorter.
The cumulative number of visitors during the tournament is projected to be 85,000.