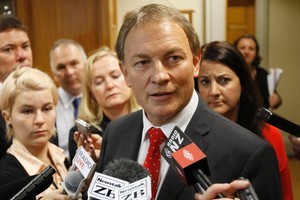 Labour leader Phil Goff has called for a referendum on state asset sales or for the issue to be entrenched, requiring more than 75 per cent support in Parliament.
Mr Goff released a private member's bill yesterday as part of Labour' s opposition to National's plans to sell minority stakes in state-owned power companies.
The State-Owned Enterprises and Crown Entities (Protecting New Zealand's Strategic Assets) Amendment Bill would require a 75 per cent vote in Parliament or a majority referendum vote before any Government could sell assets.
Mr Goff said there was strong opposition to state asset sales. He outlined the bill at the Ashburton Grey Power meeting, saying it was their generation which had built those assets up.
"The Grey Power generation were part of the generation that saw the Clyde Dam built and they wonder why we invested in that asset and now the proceeds from that asset are predominantly going overseas."
He admitted his bill had little chance of passing, saying the key goal was to raise discussion and debate.
A spokesman for Finance Minister Bill English said it was "just another desperate election-year publicity stunt by Labour". He said New Zealand would be able to vote on that policy at the general election.
Act MP Heather Roy said it showed a new enthusiasm for referenda by Labour, which had rejected calls for them when in government. Former Prime Minister Helen Clark rejected a referendum on civil unions, telling the Herald in 2004 that she had never believed in government by referendum.
"You are elected to make decisions and in my view referenda should be very much the exception, not the rule."
Ms Roy said that although Act advocated referenda before any local council could increase rates beyond inflation, that affected people directly.
She also said that Labour's delaying tactics to stop her bill to make student union membership voluntary meant Mr Goff's bill would never make it into Parliament.
- additional reporting by NZPA