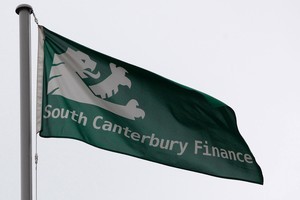 Allan Hubbard could face up to 10 years in jail if found guilty on charges laid by the Serious Fraud Office.
His lawyer says the 83-year-old Timaru accountant will strenuously fight the 50 charges.
SFO chief executive Adam Feeley yesterday announced the charges but Hubbard's lawyer, Russell McVeagh's Mike Heron, vowed to win on filing an immediate strike-out application.
"The charges are strenuously denied by Mr Hubbard," he said after action in the Timaru District Court.
Hubbard's wife, Jean, was not charged although she is a director of Aorangi Finance and Hubbard Management Funds. She told the Herald the charges were "just ridiculous".
Asked if she was worried, she said: "Yes, no, of course we are. All the charges are just ridiculous."
Hubbard challenged the SFO's decision to pursue him.
"I suppose it is designed to destroy me ... but I see they are abandoning Hotchin now," he said, referring to a statement by Mr Feeley admitting difficulties with the SFO probe into Hanover Finance and co-founder Mark Hotchin.
The $1.6 billion collapse of Hubbard's South Canterbury Finance (SCF) was the largest government-backed failure in the finance sector.
The 50 charges involve theft by person in special relationship, false statement by promoter and false accounting. They carry a maximum 10-year jail sentence.
Supporters have rallied around the elderly couple, in a financial straitjacket for more than a year after their assets were frozen and an immediate halt was called to their disposing of, or transferring, control of companies.
John Funnell, of the Leave Allan Hubbard Alone supporters' group with 4369 members, said he would stand by the Hubbards forever.
"I feel sorry for the poor old bugger. The whole thing is unfortunate. There are many of us who believe any of the financial shortfalls were not as a result of fraud, certainly not on the part of Mr Hubbard."
A second support group, the Stand by Hubbard support team, said last night it had commissioned its own investigator who would release a report in the next few days.
But Mr Feeley dismissed Hubbard's support. "Throughout the investigation we have been aware of the level of public interest in and support for Mr Hubbard and the issues of Mr Hubbard's age and health which have been raised by his lawyers.
"However we also have to consider the interests of justice and the interests of the investors relative to the evidence we have obtained."
Grant Thornton, statutory managers of Aorangi Securities and Hubbard Management Funds, said yesterday that reporting to investors at the end of this month would go ahead.
The Hubbards themselves were put in statutory management a year ago but the company which tipped them over was not the huge SCF, owner of many businesses and government-guaranteed funder in which 30,000 people had life savings. Instead, it was the smaller Aorangi, Hubbard's own business.