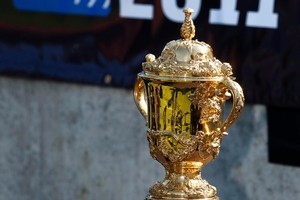 Entrepreneurs who bought Rugby World Cup-themed number plates at least three years ago are selling them for big profits - but could face action from tournament bosses.
Christchurch mother Carmen Burleigh said her partner Warrick Tuffnell bought the plate RWC 011 on the day New Zealand won hosting rights, for about $500.
Four years later, they're selling it on Trade Me for $10,000.
"We just paid for the rights to make it as more of an investment thing, we hope to make some money on it."
An Auckland banker, who wanted to be known only as Anne, advertised her number plate RWC XI on Trade Me with a Buy Now price of $2500.
Businessman Graham Veitch - broadcaster Tony Veitch's father - owns the plates 211RWC and RWC211.
Rugby World Cup Ltd general manager Ross Taylor said they were concerned about people using the event for commercial gain.
"With regards to number plates, if there happens to be a group of letters and numbers on a number plate that's fine, it's just how the cookie crumbles ... if you are trying to sell it as a piece of Rugby World Cup merchandise then we have issues," Taylor said.
According to legislation, words such as RWC or Rugby World Cup are protected and can only be used with permission from Rugby World Cup Ltd.
Taylor said they would write to people who breached the legislation.