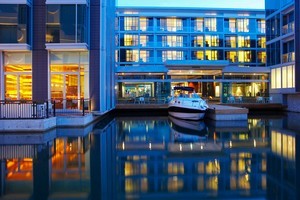 At one desk, a hotel room will cost about $600 a night. A few steps away, an identical room will be just $99 a night.
That is the strange situation from July 1 at five-star waterfront hotel the Westin Auckland Lighter Quay.
Rooms have been seized by owner/investors who have rebranded their share of Westin as Hotel Viaduct Harbour and slashed rates by three-quarters.
The angry Singaporean and Malaysian investors have already withdrawn 116 rooms from Westin, leaving the American-owned hotel chain with only 58.
Sliding to two-star status will help generate cash, after unpaid rent of $6.8 million accumulated, the owners say.
The 116 rooms are being marketed as "five-star hotel at two-star rates".
Graham Wilkinson, body corporate chairman, said the new cut-price deal aimed to fill rooms but rates would rise during the Rugby World Cup when some five-star hotels hoped for $1000 a night.
"It may seem incongruous to be slashing room rates on the waterfront on the eve of the Rugby World Cup, but that merely indicates how committed the room owners are to start creating income from their investments.
"We won't be in the same space as [Westin] although all rooms are virtually identical, because we cannot guarantee our guests access to all the hotel's facilities and services - just our rooms and access to them, hence our much lower prices," he said.
Financial troubles hit the hotel after developer Nigel McKenna's Lighter Quay Hotel Management and Melview Viaduct Harbour hit receivership last June and receivers at Korda Mentha and the owners fought.
Lighter Quay owes the investors $6.8 million in back rent and after a long standoff, the 116 rooms were pulled from the Westin's offering in the hotel, which Wilkinson said was trading profitably.
Last September, 95 rooms went, followed in October by a further 19 rooms, cutting the Westin from 172 rooms to just 58.
Westin marketed its hotel as smoke-free but Wilkinson said owners of the 116 rooms were not bound by this and smoking might be allowed in their rooms.
Twelve staff will work for Hotel Viaduct Harbour, whose guests will be able to use Q restaurant and bar but pay like the public. Westin guests will be able to charge services back to their rooms.
Wilkinson said investors' patience was exhausted by negotiations with the receivers. Despite being shut for months, the 116 rooms were in top condition and still had their Heavenly Beds, which Westin markets heavily.
Same place, different deals
Westin
* 58 rooms
* Smoke-free
* $400-$600/night rates
* Full service
Hotel Viaduct Harbour
* 116 rooms
* Smoking allowed
* $99/night rates
* Partial service