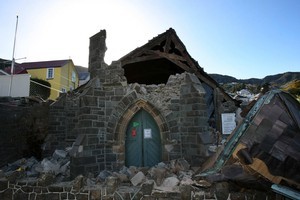 New Zealand financial institutions are preparing for Christchurch residents to walk away from their debt, risking bankruptcy but believing they have nothing more to lose.
An investigation showed that three financial institutions had each provisioned between $2 million and $5 million to cover mortgages that could default.
Bankers said the Government was aware of the likelihood of defaults happening and banks were allowing for that possibility.
"People are looking at their situation, finding their land is badly damaged. They might get a bulk payout and the Government takes back the land. They still need to build somewhere else but how do they facilitate that?
"The loans are not written off and the people have had enough. They could say, 'Stuff it, we are moving on'," one banker said on the condition he was not named.
If someone stopped paying the mortgage, the bank would force a mortgagee sale in normal circumstances. However, if the property could not be sold - as would be the case in some areas of Christchurch - the bank would foreclose on the borrower who was legally liable for loss.
The situation was complicated. People were facing job losses, a fall in valuation of their houses, they were under-insured and facing an abandonment of their suburbs which could never be rebuilt.
The banks were in a non-competitive area in that regard and had been in contact with each other about the issue of people walking away from their mortgages.
Banks expected an increased number of bankruptcies from Christchurch. Most of the residents would not be affected long-term by bankruptcy, one banker said. They were not likely to be company directors or have a job in which they would be penalised for being bankrupt.
Port Hills MP Ruth Dyson said most people who were leaving the city were continuing to pay their debt and there was help to pay rent and mortgage.
Many of her constituents were saying they wished they could leave but realised they could not go because of their debt.
What was not being recognised were the extra costs associated with having to rent accommodation in other parts of the city.
Getting their children to school sometimes involved a 45 minute drive instead of just a few minutes. Some roads could not be driven on. Activities like going to the supermarket were major expeditions because there were no supermarkets left operating in some parts of Christchurch.
Craigs Investment Partners broker Chris Timms said the level to which banks' profits would be affected would depend on their exposure to the Christchurch housing market.
New Zealand-owned banks and institutions were more likely to be affected than Australian-owned retail banks.
The Australian banks were already well provisioned for financial losses given the flooding in Queensland and the global financial crisis.
There was a difference between what happened in the United States and what could happen in New Zealand, he said. New Zealand did not have the "jingle mail" associated with the housing crisis in the United States. There, when people could not afford their mortgages, they sent the keys into the bank and abandoned their properties.
"In New Zealand, people who can't pay face mortgagee sales, but there won't be a lot of New Zealanders who think like that. It is not in our make-up. But ... in some situations, if people can't take it any more, they will just walk off," Timms said.
- Otago Daily Times