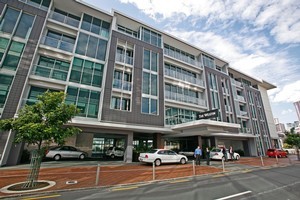 One of New Zealand's top hotels has been largely downgraded to a two star hotel, with prices starting from $99 per night.
Hotel Viaduct Harbour will operate from the same building as the five-star Westin Auckland Lighter Quay hotel, but will control two thirds of the rooms there.
The new operation will open on July 1.
Lighter Quay Management, the company that ran the Westin Hotel, fell into the hands of receivers last year after talks broke down between management and creditors.
Since then the owners have been attempting to broker a deal to settle the dispute over unpaid returns with the receivers.
Owners' representative Graham Wilkinson said last minute negotiations with the receivers in recent weeks have proved fruitless, investors' patience had been exhausted and they were committed to putting their rooms into the new cut-price hotel venture, slashing room rates to attract business and earn income.
The latest receivers' report says Lighter Quay owes room owners an estimated $6.8 million in back rent.
"It may seem incongruous to be slashing room rates on the waterfront on the eve of the Rugby World Cup, but that merely indicates how committed the room owners are to start creating income from their investments.
The mainly Singaporean and Malaysian investors who own the majority of the hotel's rooms have previously reclaimed possession of their rooms through court action.
After months of missing rent payments, the investors gained a High Court order last year cancelling their leases.
It meant they could take control of their rooms and, as a result, 95 were withdrawn from the hotel pool on September 1.
A month later, a further 19 rooms were withdrawn, reducing the hotel operation from 172 rooms to just 58.
The much smaller hotel capacity led to 99 job losses.
KordaMentha controls the public areas of the hotel, including bars and restaurants, but less than 60 of the hotel's 172 rooms. Wilkinson said Westin's website showed rooms available at the Westin Auckland Lighter Quay Hotel on July 1 from between $260 and $480 per night.
"Ours will be a budget operation for sure, and our guests may have to carry their own bags, but I am sure there will be a market demand for what we are offering, and we will quickly start to generate income for all the people who invested in these rooms in good faith."
Wilkinson said he expected Hotel Viaduct Harbour guests would be able to use the bars and restaurants like any other members of the public, but would not be able to charge anything to their room.
"We won't be in the same space as them although all rooms are virtually identical, because we cannot guarantee our guests access to all the hotel's facilities and services - just our rooms and access to them, hence our much lower prices," said Wilkinson.
Receiver Michael Stiassny of KordaMentha said he was disappointed that a beneficial outcome had not achieved for everyone involved, and claims the owners are looking after themselves at the expense of the receivership.
"We were in discussions with Mr Wilkinson. If he is going to open an alternative structure, then you can assume our discussions will be at an end."