Wealthy kids get the attention, but making it through the teen years is always a challenge.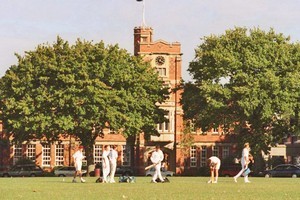 My entire social life these days seems to revolve around school: a disco, a class bush walk, a Literature Week discussion in the library, a vege-garden fundraiser.
Rock 'n' roll.
I even went to another school's fundraising quiz night last month - at King's College - although I don't have any kids there. With fees like that, do they even need to raise funds?
Oh dear, see how easy it is to be snarky about King's? I've barely got past the first sentence and already I'm doing the default sneer.
The quiz was held in the "Great Hall", which was very Hogwartian - all wood panelling and portraits of past headmasters. Our team, the Questing Voles, mostly journo chicks, didn't get any of the Hooray Henry in-joke questions right.
What was former headmaster Mr Lusk famous for? Playing golf, apparently. We did okay with picking Ke$ha and Lady Gaga, and the favourite food of the Teenage Mutant Ninja Turtles (pizza), and came fourth. The teachers - or should that be housemasters - won.
But the grand hall zinged with the electricity you can only get from a bunch of uber-powerful people in a confined space; you couldn't throw a breadstick without hitting a QC.
I got the impression that many parents of King's College students also had their entire social lives revolving around their kids' school, but obviously in a far more high-powered way than mine.
This is not a bad thing; it's a community. With the obvious proviso: as long as one doesn't forget that the kids' needs come first, before the networking and inevitable Darwinian social climbing that comes with being part of such an exclusive club.
There is also a price that must be paid for being part of a privileged clique. You get judged by different standards.
There was surely a touch of schadenfreude in TVNZ's decision to lead its main news bulletin on Sunday night with the tragic death of David Gaynor, the fourth King's student to die in 18 months, although the media seemed reluctant to point out that the circumstances of only two cases were similar. The naive assumption is that because young people at King's College learn Latin in manicured grounds, they should somehow be immune from the existential crisis of adolescence. But surely all the money and status in the world cannot protect a child, or their parents, from the trauma and angst of being a teenager.
Should King's students be expected to comply with higher standards of behaviour than anyone else? Some of the students at King's may have famous names, but they have not yet made their own fortunes or had their own achievements.
I bet they feel just as insecure about finding their way in the world as I did when I left Melville High School, decile-next-to-nothing. If anything, they may feel more oppressed by such high expectations on them to succeed.
As psychologist Nigel Latta says, the trick with teenage discipline is being not too tight and not too loose.
But rich parents are just as likely to find that balance hard to attain as working-class ones.
The morning after the King's College ball, the Herald on Sunday ran a story on page seven, "Spate of deaths hits mill town", which reported that 13 youths from Kawerau had died within 18 months.
Grief-stricken mother Michelle Elliott buried her 17-year-old son, Jordan Gray, in October and just last month was hit by the death of her nephew.
"Kawerau is a beautiful community. We don't know what is happening with our babies," she said.
Parents of young people at King's College are saying the same thing.
dhc@deborahhillcone.com