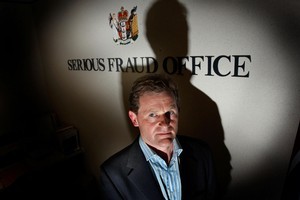 Last year's jail sentence for directors of a finance company has had "a chilling" effect on boardrooms, Serious Fraud Office (SFO) head Adam Feeley told MPs today.
Two failed finance company Five Star directors were jailed in December for more than two years for misleading investors, some of whom lost millions.
Former managing director Nicholas George Kirk was sentenced to two years eight months' prison and former director Marcus McDonald to two years three months.
Feeley told Parliament's law and order select committee jail was a strong deterrent.
"It really works with white collar criminals, they don't like going to jail," he said.
"We had...the first imprisonment sentence for a finance company director.
The level of consternation amongst company directors as a result of that was palpable."
He said many who raised concerns were not doing anything wrong but feared potential action.
"There is no doubt that even one imprisonment sentence of a finance company director had quite a chilling effect on the corporate boardroom."
Police Minister Judith Collins encouraged the SFO's approach.
"This could be someone who's had the right club memberships, the right social network, going to jail for fraud."
The conviction not only deterred offending, but encouraged people to approach authorities with concerns.
"That's a fantastic deterrence."
The Five Star directors were jailed after they pleaded guilty to charges of theft by a person in a special relationship, laid by the SFO.
They also admitted charges laid by the Ministry of Economic Development of making false statements in an advertisement or registered prospectus, making false or misleading statements, and a further 36 charges relating to breaching the Securities Act.
The offending took place between 2005 and 2007, during which time $54 million was invested by members of the public, only $12 million of which has been recovered.
- NZPA