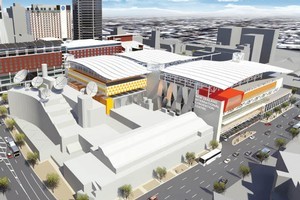 Prime Minister John Key has defended the government's decision to give support to Sky City for the construction of a $350 million convention centre in Auckland, saying the company's investors could not be expected to invest without certainty the project would go ahead.
Sky City proposed over the weekend to build a convention centre by 2015 on land in central Auckland, although it has asked the government to make changes to gambling regulations, such as extending Sky City's casino licence past 2021 and allowing it to provide more gaming machines for customers.
The announcement comes the same weekend as it emerged the country's largest purpose-build convention centre in Christchurch is likely to be demolished due to damage sustained in the February 22 earthquake that hit the city.
Speaking on TV One's Breakfast programme this morning, Key said he did not think a precedent was being set that law changes would be made for big business if enough money was involved.
"We want to be in a regime where we can make sure there's good business activity and where we grow Auckland and we grow the country," Key said.
"In this particular case, we do want Sky City to invest $350 million. It's going to create 1000 jobs while that construction is underway, and 800 permanent jobs, and bring about 100,000 high-value visitor nights a year," he said.
"We think Auckland needs a convention centre. Government and the rate payers don't want to put in money, Sky City's licence actually expires in 2021 and this facility wouldn't be finished until 2015, so you can't expect their shareholders to invest for six years without certainty of their investment."
"We need to put up a case to make sure that it is viable, because we want them not only to build it, but to run it," Key said.
"I don't think it's a matter of thanking them, it's a matter of being logical. We are sitting there saying, 'look, their licence expires in 2021, we know that it will be extended' - well that's almost a probablility."
There might likely be more gaming machines as a result of government concessions to Sky City, Key said.
"That's largely targeted at the international market, and that helps, overall, make the transaction work, because without that it's unlikely that just the convention centre would support a $350 million investment," he said.
The government was constantly changing laws to facilitate economic development or make changes in other parts of society, Key said, citing recent changes to aquaculture and fishing laws.
Meanwhile, Key told Newstalk ZB's Mike Hosking the agreement was not yet a done-deal, with the two parties now going to undertake negotiations.
"But I hope it becomes a done-deal, because having an international convention centre for Auckland, if you want Auckland to compete with Sydney and Melbourne and the likes, it is really important. It will make Auckland a much more interesting place, support a lot more business and jobs, I think it's a good thing," Key said.
On RadioLive this morning, Key told presenter Marcus Lush he was not aware whether or not Sky City donated to the National Party.