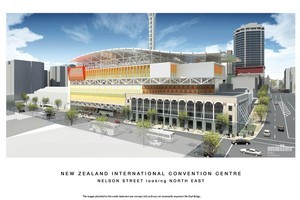 The Government is negotiating with entertainment group SkyCity to build the country's largest convention centre in Auckland despite strong political opposition.
Prime Minister John Key said the project would create jobs, boost tourism and put the country on the map as a "business events destination".
"An international-sized convention centre is essential for New Zealand to tap into the growing market of high value business visitors we are currently missing out on," Mr Key said.
He said the tourism industry and business sector had been asking for an international-sized convention centre for years.
The proposed 3500-seat convention centre would be built between Hobson and Nelson Sts and is expected to provide an estimated $90 million boost to the economy through new spending by additional international visitors.
It is projected to attract 183,000 delegates annually, adding an extra 101,000 visitor nights and 350,000 additional delegate attendee days in Auckland.
SkyCity will pay the full construction costs for the centre, estimated at $350 million, but has asked that the Government consider alterations to gambling legislation and regulations.
Mr Key said any discussion on reducing the entry age of 20 to casinos, allowing SkyCity an internet gambling licence or additional casino licences had been ruled out.
Areas under negotiation include an extension of SkyCity's licence beyond 2021 and a proposed increase in gambling tables and machines at its Auckland casino.
"Any changes to gambling regulations will be subjected to a full public submission process," Mr Key said.
SkyCity chief executive Nigel Morrison said the new centre would create around 1000 jobs during the construction phase and about 800 jobs once fully operational in January 2015.
The "closed door" negotiations between the Government and SkyCity means there is little to celebrate, say Labour, Greens and the Maori Party.
Chris Hipkins, Labour's Internal Affairs spokesman, said the Government must stop being dictated to by multinational corporations.
"The National Government should be guided by what is in the best interests of all New Zealanders, not what's in the best interests of corporate giants," Mr Hipkins said.
"It's ironic that National aren't willing to back local companies like KiwiRail ... but when one of the private sector corporates clicks their fingers, it seems there isn't anything John Key won't do to please them."
Waiariki MP Te Ururoa Flavell, sponsor of a bill to limit gambling harm, said: "We oppose in the strongest possible form any suggestion that will enable SkyCity to benefit from any special provisions.
"We believe that the social harms of a casino would far outweigh any economic, employment or tourism benefits suggested."
Green Party gambling spokesperson Kevin Hague said the gambling industry had caused extraordinary hardship to gambling addicts, their families and communities.
"The profits that SkyCity believes it can extract from vulnerable gamblers are obviously immense to make it worthwhile for them to build the centre," he said.
"This 'policy for sale' approach by the Government is strongly reminiscent of its rush to change industrial relations law to suit another multinational corporate, Warner Brothers."
But the project has the support of the Auckland Council, with Mayor Len Brown calling it a "timely boost to the economy in the CBD".
"There are more than 8000 conferences around the world each year, but less than 30 come to New Zealand.
"Convention delegates are high spenders. On average, they spend more than $650 per night in Auckland, around double the amount spent by visitors on average," he said.