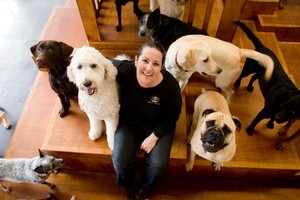 The 159 dogs at Barkley Manor can't give online feedback on their grooming and the way they're treated. But Krista Johnson, founder of the doggy daycare, groomers and training school in central Auckland, hopes their owners do - whether the critiques are good or bad.
Even though Barkley Manor has felt the sting of a negative review posted on the finda business directory website, Johnson still welcomes comment.
"Giving people the forum to voice their views is sometimes invaluable. People are allowed to say how they feel," she says.
"I love any feedback, but I don't get enough of it, really. I often say to all of our staff that one person willing to walk back to our door and say 'I'm not happy' is a magical experience. You know if you don't solve a problem, they're going to tell way more people than those that love you."
Johnson, originally from London, comes from a commercial media background, having worked in interactive television before settling in Auckland with her retriever/poodle cross, Dudley. "My world was about consumers using technology to do better things, so I'm very aware of the power of online," she says.
She chose not to give her clients the opportunity to post brickbats and bouquets on the Barkley Manor website itself, but accepts unrestricted feedback through finda, the Kiwi online directory which accepts consumer reviews of the more than 225,000 businesses and services listed.
"I love what finda and those guys do, because then it's completely impartial isn't it?" she says.
Johnson seized her right of reply when a customer posted a negative review on finda, unhappy with the attention she received from a Barkley Manor staff member when dropping off four dogs for their regular grooming session.
The review called the worker "downright rude, completely unaccommodating and bordering on contemptuous".
In reply Johnson wrote: "Whilst it saddens me that we have let a client down, I must thank you for taking the time to give us feedback. There was never any intention to cause you such upset ... Whilst we are disappointed that we will no longer see the 'kids' we understand the owner's decision, and hope they make the new groomers laugh and smile as much as we did when they were here."
Johnson says she responds because all feedback is valuable to her business.
"It wasn't about her being wrong, it was 'yes I've taken it on board'. You can say your piece and let people decide for themselves," she says.
"At the end of the day my focus is 100 per cent on making sure the dog is happy and healthy, but I like humans as well. So we can't discount that the love for their animals might mean they get as emotional as they would over a child who's had a bad day at school."