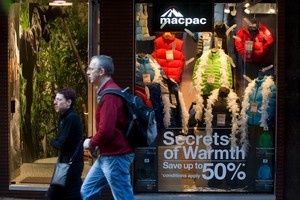 Shoppers can grab a bargain as retailers discount winter clothing because of unusually mild weather.
Many stores in Auckland are advertising money off warmer winter stock, with offers of up to 50 per cent off to try to draw in reluctant shoppers.
And some stores are even sending stock to the South Island to offload it where the weather has been colder.
The manager of Macpac in Vulcan Lane, Craig Wright, said Auckland stores had been sending winter stock to branches down south because it was not selling. "We haven't needed as much as we thought we would."
The firm noticed a rise in sales of summer clearance stock as customers continue to buy lighter clothes, he said.
"We're not losing money, but it's just not coming in the areas we thought it would."
A manager at Icebreaker's Queen St branch agreed the weather was affecting what customers bought.
"It's warmer than it would be in London in summer. We've had one cold day every fortnight," she said.
It was "too hot" for customers to think about buying warmer clothes.
"We wear all the product to work, but at the moment we're too hot."
Staff at chain stores such as Max and Glassons have also noticed a difference. "It's been crap, it's too hot," one staff member told the Herald.
Another said the warmer weather was "definitely" affecting sales.
"It's been really slow lately."
Hallenstein Glasson Holdings chief executive Graeme Popplewell last week said the "exceptionally mild" winter had contributed to the company's total turnover failing to match that of 2010.
"We are already witnessing aggressive discounting in the speciality fashion sector and we anticipate trading conditions in the remaining two months of the financial year will be difficult."
Mr Popplewell said if the current trend continued the company would have to work to clear winter stock.
Russell Sinclair of the Retailers Association said "it's a market very much dependent on moving the bulk".
"When that doesn't happen, you begin to see the discounts."
People shopping in Auckland's central business district said they were not tempted to buy despite the deep discounts on many items.
Many people said they were waiting for a change in the weather before they purchased big-ticket winter items.
Mr Sinclair believes the mild weather could hit menswear more.
He said men tended to think: "It's getting cold, I need to buy a jacket."
Dr James Renwick of Niwa said that after the warmest May on record, the first week of June was "shaping up to be exactly the same".
Niwa's seasonal climate outlook for June to August suggests a mild winter remains likely for most of the country.
Despite the mild conditions, however, Dr Renwick said there would be some cooler days.
"Maybe that'll help to shift a few jumpers and jackets."
HOT SPECIALS
Barkers: "Layer and Save" - buy three, take 30 per cent off.
Portmans: $20 off new-season knits.
Rodd & Gunn: 40 per cent off selected winter styles.
Glassons: 25 per cent off merino goods.
North Face: 30 per cent off some items.
Macpac: "Secrets of Warmth" - up to 50 per cent off down jackets