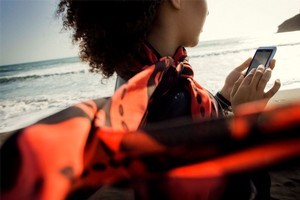 The regulatory axe is hanging over transtasman roaming rates as both New Zealanders and Australians say the charges deter them from using mobile phones while across the Ditch.
Communications Minister Steven Joyce released a Government survey yesterday which suggested well over half of New Zealand businesses discouraged their staff from using mobiles in Australia for calling, texting or accessing the internet.
The survey collected responses from 281 businesspeople who travelled across the Tasman between July 2010 and January 2011.
It found that 72 per cent of small businesses and 59 per cent of large firms told workers to call or text while in Australia "only if they really needed to".
Furthermore, it revealed that three-quarters of small and large businesses told staff they should only access mobile internet if it was absolutely necessary.
The reason for discouraging use was because of the expenses associated with using a mobile phone while roaming.
Joyce indicated that the survey helped inform the Government's decision to launch a joint investigation with Australian authorities into whether the rates need to be regulated.
He announced the investigation in April and the findings are due early next year.
Yesterday, Joyce expressed concern that roaming costs may be stopping travellers from doing business in Australia.
While New Zealanders are reluctant to use their phones while travelling, there is a similar sentiment from Australians coming across the Tasman.
The Australian Communications Consumer Action Network (Accan) said roaming rates meant Australians shied away from using their phones while in New Zealand.
Accan chief executive Teresa Corbin said her organisation backed regulation as the way to ensure fair prices.
"Pricing interventions, like those currently used across Europe, should be put in place to decrease roaming charges between our two countries," Corbin said.
Telecommunications Users Association chief executive Paul Brislen said regulation was "absolutely necessary" to lower roaming rates.
However, Vodafone and Telecom argued that prices were already coming down and no intervention was needed.
"Regulation is complicated and time consuming, we would prefer that the competitive market sets the benchmark for pricing. As we have seen over the past couple of months, there have been some large reductions in roaming costs already," said Vodafone's Matt East.
Telecom spokesman Mark Watts agreed that prices were falling and the market would deliver the cheapest rates.
"We think it's a race between the market and regulation and we back the market to win," he said.
The two telcos made similar arguments when the Commerce Commission began investigating mobile termination rates in 2004.
Joyce said that while he applauded recent price reductions in the roaming market, the investigation would continue.