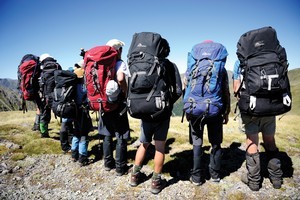 Jan Cameron, the multi-millionaire founder of Kathmandu, has bought a $20 million stake in competitor Macpac.
Cameron sold Kathmandu for $277 million in 2006 to a consortium consisting of Goldman Sachs JBWere Private Equity, Quadrant Capital Private Equity and Kathmandu management.
Kathmandu placed a restraint of trade on Cameron five years ago to prevent her from starting a rival company. The restraint expired in May.
One of Macpac's directors and founders, Bernard Wicht, is Cameron's ex-husband.
Macpac director Campbell Junor, who worked with Cameron when she owned Kathmandu, confirmed the stake sale and said Cameron would be "reasonably active" in decision-making and strategy.
Macpac has 15 stores in New Zealand and 14 in Australia. It also sells into outdoor clothing stores in Europe, UK, Japan, Hong Kong and South Korea.
"We have a lot more potential in our business than we are currently realising," Junor said.
Cameron founded Kathmandu in 1987 and started selling sleeping bags, packs and tents in Christchurch - also the home and headquarters of Macpac.
Over the years Kathmandu has moved into apparel, footwear, children's wear and selling items such as cookers, stoves, portable showers and drinking bottles.
In November 2009, Kathmandu listed the company on the New Zealand and Australian Stock Exchanges. The listing remains the biggest IPO on the NZX since Vector raised $592.6 million in 2005. It was floated with a market capitalisation of $427 million at the IPO price.
Kathmandu chief executive Peter Halkett said there was space for everyone in the outdoor category and if Cameron wanted to get back into it then so be it.
"Jan is one of a number of competitors we face. Obviously there is a history there, we are disappointed that we weren't able to have a relationship with Jan and that she couldn't still be involved in the company.
"She has obviously chosen a different path for whatever reason, that path was chosen some time ago.
"The business of Macpac has opened a significant amount of stores over the past three years and clearly have taken some sales in the market. At the same time Kathmandu has also grown significantly."
Goldman Sachs said Cameron's involvement in Macpac was not "new news".
"Cameron has had a reasonable past track record in retailing, and the expansion of Macpac will indeed increase competition for Kathmandu and other outdoor retailers, in our view.
"Macpac currently has 29 stores and a strong brand name, particularly in New Zealand, less so in Australia. We believe this has led to the recent opening of new stores achieving reasonable traction in New Zealand, and less so in Australia."
Goldman Sachs said it understood there had not been significant investment in Macpac's design team for the past few years. Kathmandu's design team had grown from 10 to 40 people since 2006.
Kathmandu shares closed down 1c yesterday at $2.18.