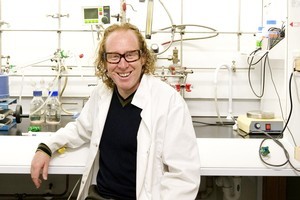 Auckland-based clean technology sector darling LanzaTech has added the giant Japanese industrial conglomerate, Mitsui and Co. to the growing band of A-list global clients lining up to use its gas fermentation technology to convert waste gases into bio-fuels and other valuable chemicals.
The agreement with Mitsui will accelerate the deployment of the Lanzatech technology globally in low carbon industrial solutions, said US-based chief executive Jennifer Holmgren in a statement this morning.
The much-decorated company, founded in New Zealand in 2005 and with research facilities in Auckland, is already piloting the use of its carbon monoxide-gobbling microbe at steel mills in Korea and China, and at a refinery for one of India's largest oil companies.
It has signed a memorandum of understanding with Mitsui Global Strategic Studies Institute to introduce the Lanzatech technology throughout Mitsui's operations, with a concurrent MOU being executed with Mitsui & Co Plant Systems, Mitsui's engineered plants business group.
"MGSSI and MPS will play a strategic role leveraging Mitsui's global position in a variety of industrial sectors, identifying value added opportunities for the application of LanzaTech's process," said Holmgren. Commercial deployment of LanzaTech's technology would be accelerated by using Mitsui's engineering, project development, financing and product off take contract capabilities.
LanzaTech uses non-food renewable resources to produce fuel grade ethanol and key chemical building blocks used to make polymers, plastics and hydrocarbon fuels, including drop in jet fuel.
With offices in 66 countries and annual revenues of US$56.3 billion, Mitsui has been an active participant in recent oil and gas exploration in this country.
Its businesses range from logistics, financing and the development of international infrastructure, to projects in iron and steel, minerals and metals, motor vehicles, marine and aerospace, chemicals, energy, foods, retail, consumer services, information, electronics and telecommunications.