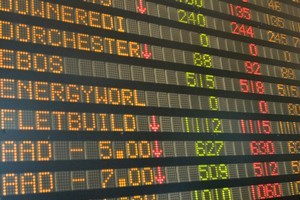 The New Zealand sharemarket gained in early trading, despite falling stock prices in the United States where weak data is supporting a bearish outlook for the economy.
Around 10.25am the benchmark NZX-50 index was up 7.46 points to 3522.22, after losing 11.1 points on Friday.
Among leading shares, Contact Energy added 5c early to 590, and Fletcher Building gained 3c to 890, while Telecom slipped 1c to 231.5.
Ryman Healthcare was up 7c to 278, Sky TV lifted 4c to 572, Freightways added 4c to 330, Sky City was up 3c to 361, and Nuplex gained 3c to 313.
Mainfreight fell 7c to 981, OceanaGold dropped 7c to 303, Trustpower was down 5c to 740, and Cavalier Corp fell 3c to 381.
In the US, stocks have been battered over the past five weeks on a number of disappointing reports, culminating in Friday's (local time) US employment report, which showed employers added a meagre 54,000 jobs last month and the unemployment rate rose to 9.1 percent.
The Dow Jones industrial average dropped 0.5 percent to 12,090.11, the Standard & Poor's 500 Index fell 1.1 percent to 1286.17, and the Nasdaq Composite Index lost 1.1 percent to 2702.56.
- NZPA