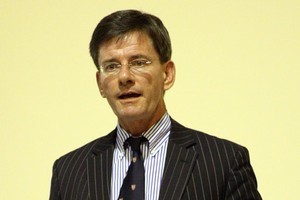 The Government's bungled call for more collaboration between content regulators has cheered TV networks which want self-regulation of programming standards.
But it has worried newspapers whose standards are overseen by the self-regulatory Press Council and which fiercely opposes their content being overseen by state-appointed agencies.
The Government would "work with the Broadcasting Standards Authority, the Advertising Standards Authority, the Press Council and the Office of Film and Literature Classification to look at opportunities for greater collaboration", it said.
But the Press Council and the ASA are both independent self-regulating bodies and were not consulted on the plan.
Broadcasters claim the BSA, a statutory body, is doing a bad job and their industry should be more self-regulating.
"The first that we heard about it was just a few minutes before the press release," Press Council secretary Mary Major told NZPA.
A spokesman for Bill English played down the scale of the "collaboration", saying there were no plans for a wider-scale review of regulatory standards.
A government source said the review might look at closer ties between the Office of Film and Literature Classification and the BSA, with the ASA possibly providing some back-office functions for the BSA. But some believe the plans go beyond tinkering. One television industry source said: "The Government announcement is code for possibly creating one super body to oversee media standards - which Labour's regulations review in 2008 was also looking to do.
"The big fight will now be between the broadcasters and producers who will want an industry body like the ASA and those on the BSA who will want a statutory body like theirs."
Arts Minister Chris Finlayson said there was no plan to regulate the Press Council or to try to set up a single body to deal with all complaints.
"This is not some sinister hidden plot to abolish the Press Council or anything like that. The Press Council does a good job and it's a self-regulatory model."
He said the ASA and Press Council were both good models and would be used to see if the Broadcasting Standards Authority could be more efficient.