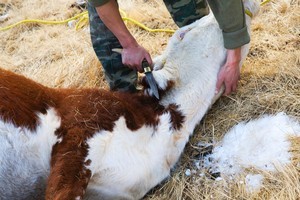 Australia has suspended shipments of live cattle to 11 Indonesian abattoirs amid calls for a complete ban on the trade following television footage of horrific cruelty and butchery.
The ABC's investigative Four Corners programme showed cattle being brutally lashed, kicked, beaten and eyes gouged before slaughter.
Few Indonesian abattoirs stun cattle and RSPCA experts said the footage indicated some of the animals could have been conscious as they were dismembered.
The live export industry has come under increasing fire for continuing to ship cattle despite promises to boycott the abattoirs, and for failing to meet assurances on welfare.
Cattle exporters, who earn more than A$300 million ($372.6 million) a year from Indonesia, have already felt the power of public outrage from similar revelations in Egypt, forcing a ban that was not lifted until new guarantees were in place.
Yesterday, Tasmanian independent MP Andrew Wilkie, supported by the Greens, introduced a private member's bill calling for the end of all live animal exports, adding weight to measures announced by Agriculture Minister Joe Ludwig.
Ludwig has suspended trade with the abattoirs shown on Monday night's Four Corners' programme and will set up an independent review into the trade with Indonesia that could ban sales to further meatworks. He also indicated other markets could be targeted.
"I have requested a thorough briefing on all of the legislative and regulatory responses available to me for responding to evidence of animal mistreatment, including the banning of trade to specific facilities or destinations," he said.
Ludwig, expressing shock at the Four Corners footage, said he had been concerned about the live animal trade for some time and the industry had been slow to improve its standards.
"It is clear that industry reforms to animal welfare standards have not gone far enough or been fast enough and much more needs to be done." But the Government continues to support the live export trade, which Ludwig had previously said was the backbone of many rural and regional communities.
The Government's position paper on the trade also says live animal exports are an important part of Australia's "vibrant and growing livestock" industry, earning more than A$990 million ($1.2 billion) a year and underpinning about 10,000 jobs.
The paper says Australia leads the world in animal welfare practices, does not tolerate cruelty and will not compromise on animal welfare standards.
New measures to boost welfare were introduced after an investigation in 2003, including tougher animal welfare laws and agreements with importers - mainly in the Middle East - on humane treatment and slaughter.
But while officials are required to ensure that importing countries meet Australian requirements before approving export licences, they have no power once cattle, sheep and goats leave the ships.
LiveCorp chief executive Cameron Hall told the ABC that after viewing its "graphic and disturbing" scenes last week, exports had been suspended to three of four abattoirs featured in the investigation.
The industry had also launched a welfare action plan, which included the provision of stunning equipment to five additional abattoirs by the end of the year, and which by 2015 would permit sales only to abattoirs meeting World Organisation for Animal Health standards.
"Immediately upon seeing that footage, we've acted, the same day," Hall told the ABC.
"And we've received acceptance and agreement from the Indonesian industry to suspend the supply of Australian cattle."
But yesterday a Four Corners representative found Australian cattle were still being slaughtered at some of the suspended meatworks.
The RSPCA, which opposes the export of live animals, said the industry acted only when cruelty was revealed and its response was a "predictable and completely unacceptable" public relations exercise.