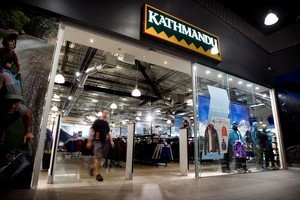 It was a punchy play on its name that warned investors off Kathmandu when it went public 18 months ago.
But the company's success has proven that the gibes of "Kathmandon't" were unfounded.
Kathmandu is expanding rapidly in a market where most retailers are struggling to balance the books, let alone open new stores. By the end of July, Kathmandu will have opened seven new stores, and within the next few weeks it will open a store in Ashburton and in Cairns, taking its New Zealand stores to 38 and its Australian to 62.
Kathmandu chief financial officer Mark Todd said the fact that Kathmandu could even open and operate in these markets shows how far the company and the brand had grown over the past five years.
The opening in Ashburton instils a sense of pride in Todd, it's his hometown, like the company, he has his roots down South.
He has worked for the company since 1998, or since it had 11 stores.
This week Todd announced that Kathmandu's national distribution centre would remain in Christchurch. It will be moving to a new site in July next year to accommodate the company's NZ expansion plans.
The company's growth has been attributed to three factors: the growth in the global trend for adventure-based experiences, the expansion of stores, especially in Australia, and increased brand recognition.
"Last weekend a friend said to me, one of the reason your's [Kathmandu] is such a good brand is because you cater for all the people that have an 'ing' in their life, doing, camping, tramping. So when people are doing something we usually have something they want. People want to fulfil their lives and fill it with stuff to do," Todd said.
Kathmandu chief executive officer Peter Halkett said the company's growth was not unique in the category, other brands such as North Face and Patagonia were also experiencing strong returns.
"It's a category that is very strong and is continuing to grow. We'd like to take credit for the growth ourselves, but clearly we have positioned the company to ensure it maximises its potential for the trend. But this is a global trend.
"I think this trend has been going on for some time, it's particularly strong in New Zealand because we have an outdoor culture, clean environment. So New Zealand has been in some ways at the forefront of that," Halkett said.
He said the adventure-type lifestyle existed in "pockets" of the world such as Canada and South Africa, and this trend coupled with the economic downturn had caused people to re-think their holidays and focus on domestic trips.
"People are looking for experiences more so than ever, and experiences can be very broad. It could be an African safari or going to Thailand and jumping on back of an elephant, which is what Mark [Todd] did a year or two ago. It could be going cycling through France and Italy but in general as Western cultures have got more sophisticated, it's not about sitting in front of the TV all day."
The company was founded by Jan Cameron in 1987 who started selling sleeping bags, packs and tents in Christchurch. Over the years the company has moved into apparel, footwear, children's wear and selling items such as cookers, stoves, portable showers and drinking bottles.
In 2006, Cameron sold the company to a consortium consisting of Goldman Sachs JBWere Private Equity and Quadrant Capital Private Equity and Kathmandu management for a reported $277 million.
In November 2009, Kathmandu's new owners listed the company on the New Zealand and Australian Stock Exchanges.
It remains the biggest IPO on the NZX since Vector raised $592.6 million in 2005. It was floated with a market capitalisation of $427 million at the IPO price.
News that Cameron was planning to set up a sizeable outdoor clothing business in New Zealand and Australia to rival Kathmandu, and the fact it was owned by private equity funds, caused doubt over the validly of the IPO and resulted in some industry insiders calling the company Kathmandon't.
Until this month Kathmandu had a restraint of trade against Cameron mentioning any plans to start a rival company.
Halkett agreed that the company had its critics when it decided to float at the end of 2009. But he said the Kathmandon'ts of the world pushed the chief executive even harder to deliver returns for customers and ultimately shareholders.
"We are in a very competitive space, in a changeable world and there will always be reasons not to invest, in some of the biggest blue chip companies and the smallest entrepreneurial companies. So we have always been confident. We have always known what our potential was and we remain as confident as we were back then."
New Zealand and Australia had 20 stores each when Kathmandu was sold in 2006, Todd said.
By 2015, it will have 100 stores in Australia and there is room to expand New Zealand's 38 stores.
The company reported strong figures for the 2009 financial year, from 82 stores across both countries Kathmandu made $216 million in sales.
"There was clearly an enormous growth opportunity, particularly in Australia, even with the business as it looked at the time. When the company listed, we had only gone half way, a small part of the way."
Todd said there was a "strong degree of institutional shareholder support" for the IPO, and that all those primary investors are still on the books today.
Halkett said the beauty of the brand was that it appealed to a wide audience and that was the core of the company's success. "We started with that sense of adventure, wanting to get out of there and have experiences. The brand doesn't have social barriers and that's why the brand has struck a cord." Other brands don't quite have the DNA mix. "And we can't tell you what that DNA mix is."
The company's share price has been through peaks and troughs and closed yesterday at $2.27 - above its debut price on the NZX of $2.22. It has reached a high of $2.60 in March.
Halkett said that while the company's share price was not much higher, the company was performing and doing this while focusing on an ambitious expansion plan.
"This is a rollout," Halkett said.
Goldman Sachs retail analyst Buffy Gill said when the company listed it had a good initial performance but then the retail sector hit trading difficulties, and because of this people were worried Kathmandu was not going to meet its first full-year forecast.
"All the analysts in the [retail] market had listed their expectations of what it would get for the full year. They didn't quite meet that, they came in slightly below. They still had a good year but it was slightly below what people were expecting.
"So, people trashed the share price, people sold out. You read stories about private equity ownership selling onto the market, so that's what got it to a low point at $1.56 in November last year. At the time we had it on our conviction buy list because we thought 'this is ridiculous, it was a buy at the listing'," Gill said.
Carmel Fisher, director of Fisher Funds, said the firm had been a strong supporter of retail and understood the "trials and tribulations".
The firm owns 1.9 per cent of Kathmandu and has been "pleasantly surprised" by the company's performance, Fisher said.
"We feel that they have delivered to expectation, in what is a really difficult retail environment, particularly for apparel. If people don't have to spend money they won't on apparel. I think they have done exceptionally well."
Fisher said the company's focus on growing profit in Australia was "fantastic" news for shareholders.
"We are delighted that they are focusing on increasing margin and getting their layout and mix just right. Because if they can get that right then there is enormous potential."
Australian analyst Mark Wade, of Linwar Securities, said the company had performed better than many others owned by private equity firms, but added it was still early days for Kathmandu.
Wade said the company relied heavily on its seasonal sales periods over Christmas, Easter and Winter - its largest sale.
"The big winter sale that coincides with the end of the company's financial year is a key driver of earnings. There is a culture of discounting at Kathmandu, the frequency and intensity will ideally cut back as the company grows.
"Customers get trained to wait for the sales, and that makes it hard when predicting how much staff and stock will be needed."
Kathmandu announced this week to the delight of Canterbury Earthquake Recovery Minister Gerry Brownlee that it had signed a 10-year lease to occupy a new $8 million site in Woolston.
Brownlee said Kathmandu's decision to rebuild in Christchurch was a "major vote of confidence" for the city and that there was a "real air of optimism in the region at the moment".
Goldman Sachs' Gill said Kathmandu's formula was proving to be a success.
"I think in general they have been doing a really good job of promoting a brand and positioning the brand as something that's unique and aspirational for consumers."
Jan Cameron
Jan Cameron - who founded Kathmandu in 1987 - sold part of the company 20 years later to private equity funds for a reported $300 million, making her one of New Zealand's wealthiest women.
Tension between her former company and Cameron surfaced when Kathmandu decided to float. Cameron was critical of the direction the company was taking and even threatened to open a rival company.
Kathmandu placed a restraint of trade on her.
Cameron, who lives in Tasmania, is known for being media-shy.
In 2009 ,she bought discount variety chain Australian Discount Retail, formerly owned by The Warehouse, which fuelled rumours she may be positioning herself to launch in Australia. That year she increased her stake in listed retail group Postie Plus to 17.5 per cent. She has an estimated 10 per cent stake in listed children's clothing company Pumpkin Patch.
Cameron owns retail chain Nood, a homeware store with shops across New Zealand.
Cameron is estimated to be worth $350 million, according to the 2010 National Business Review Rich List.
She is heavily involved in animal welfare. In November she gave $2 million to Save Animals From Exploitation that formed the foundation of the Animal Justice Fund. She also gave $6.4 million to set up a similar fund in Australia. Last June she was made a Companion of the NZ Order of Merit for services to philanthropy.