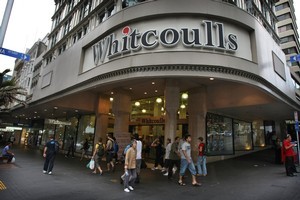 Anne and David Norman will have their work cut out in turning the Whitcoulls and Borders book retailing chains around because of the emerging "e-market" for books, and the intense competition from The Warehouse and Paper Plus, retail experts say.
They say the threat of books that can be bought cheaply off websites such as Amazon.com, and from titles that can be downloaded on to e-book devices such as Amazon's Kindle, and Apple's iPad, will not have been lost on the Normans, who on Thursday bought the chains for an undisclosed sum from the administrators of the failed Australasia retailer, REDgroup.
The chains were sold to Project Mark, a company in the Normans' James Pascoe Group, which operates Pascoes, Farmers, Stewart Dawsons, Goldmark, Stevens, Prouds and Angus & Coote and employs more than 9000 staff in New Zealand and Australia.
Despite the likely hurdles, analysts are upbeat about the prospects of the Normans replicating the success they had with the Farmers retail chain, which they bought from Australia's Foodland Associated for $123 million in 2003.
There is no data available on the extent of the e-book trade in New Zealand, but it represents at least 15 per cent to 20 per cent of overall US sales and it's an area that is growing rapidly.
"It's not going to be an easy ride, and I hope they have gone into it with their eyes wide open, because the whole business model for book selling and for book reading has changed," Tom Agee, a senior lecturer in marketing at Auckland University, said. "If you are selling a popular book for $39.50 retail and you can download that from Amazon for five bucks, today's Generation Y readers are probably not going to want a bookcase full of books, so I think that is the future."
While Whitcoulls and Borders stagnated under the ownership of REDGroup, the competition from Paper Plus, which has well over 100 stores, and the country's biggest bookseller, The Warehouse, heated up, Agee said.
The Normans have not bought three Christchurch stores because of the earthquake and also declined to buy stores at Papamoa, Upper Hutt and Albany Mega because the were not financially viable. They have just started discussions with landlords with the aim to the secure leases on the remaining Whitcoulls and Borders sites.
Tim Morris, managing director at retailing research house Coriolis, said there was nothing intrinsically wrong with Whitcoulls before it was swept up by REDgroup in the debt-fuelled private equity craze of the early 2000s.
"It was more a debt problem," he said. "The Normans have bought a business that is fundamentally sound - they are just going to run it 5 per cent better, which is probably all it needs."
Buffy Gill, a retail analyst at Goldman Sachs, said the Normans' track record would leave them well-placed to improve the chains' business, but that new technology would be a challenge. She said it might turn out that Whitcoulls follows the overseas example of dedicating the front of the store to e-book readers.
The Whitcoulls and Borders sale gives the Normans the biggest retail footprint in New Zealand's 12 Westfield malls, considerably expanding their business, Nathan Male, of Auckland's Metro Commercial, said. The scale of the group makes them the largest tenant by floor area in most major malls.
In a rare interview in 2009, David Norman said that Farmers, despite its iconic brand status, was not and probably never would be wildly profitable.
Companies that use their kind of conservative stewardship - taking the long-term view, keeping debt down and investment up - are the ones which have weathered economic storms. "It's actually an old school way of running your firm, and right now in this climate it suddenly looks like a very smart way," he said then.
The Normans take possession of the business on June 15.