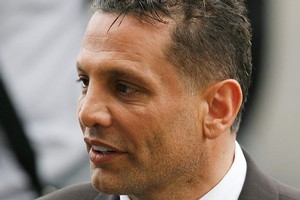 Two companies associated with Wellington property developer and Wellington Phoenix football club owner Terry Serepisos have been placed in receivership.
Companies Office records show a company called 79 Manners Street Ltd was put into receivership on May 19.
John Fisk and Richard Longman of PricewaterhouseCoopers are handling the receivership. The company is owned by Century City Trust Ltd, which is owned by Mr Serepisos.
Maison Property Holdings Ltd was also placed in receivership on May 19, and Mr Fisk and Mr Longman are also handling the receivership. Century City Trust Ltd is also a shareholder of that company along with Konstantinos Serepisios.
The receivers were appointed by frozen lender Equitable Mortgages.
Equitable Mortgages called in receivers last November and Korda Mentha has taken over that receivership.
Terry Serepisos also faces a bid to bankrupt him and two of his companies after the High Court in Wellington dismissed an application to throw out the proceedings.
Associate Judge Gendall rejected Serepisos' argument that the bankruptcy application was unjust, saying there was no substance in the argument.
The decision lets FM Custodians, which is acting for the Canterbury Mortgage Trust, push ahead with bankruptcy notices against Serepisos, and his companies New Millennium Design Ltd. and Century City Developments.
FM Custodians is trying to claw back the remaining $5 million owed on some $6.8 million of loans personally guaranteed by Serepisos. The outstanding balance is accruing annual interest of 17.25 per cent.
- NZPA / NZ Herald Online