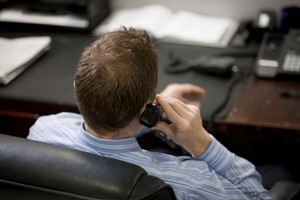 A man sacked by a company that recorded his conversation and used the content as grounds for dismissal lost his case at the Employment Relations Authority yesterday.
The conversation revealed he had misled his bosses at the security firm about having to leave work for a family funeral.
But Ronnie Shayler took his case to the authority, claiming unjustified dismissal, lost wages and $10,000 compensation.
The saga started in November 2009 when Mr Shayler was working in the control room at Rush Security and got a phone call from his wife.
He told his boss, Larissa Rush, that he had to leave work immediately to drive his wife to a family funeral in Hastings.
But the phone call was recorded, and Ms Rush later listened to it.
She found there was no funeral, no family emergency and that Mr Shayler's partner was not distressed but made sounds of "playful laughter" during the call.
Mr Shayler, who had been in the job just two months, was told he was being stood down on full pay. He also received a letter from Ms Rush advising him of disciplinary action.
Ms Rush wrote: "The details of the conversation present an utterly different picture to the one you presented to me.
"As I could hear jovial and playful laughter of your wife when talking to you, it appeared as nothing more than a set-up for an excuse of not having to work on that day and using the 'death' circumstances to back up your story."
A disciplinary meeting was held and Mr Shayler was sacked.
In a follow-up letter, Ms Rush told Mr Shayler that he had acknowledged his partner did not ask him to drive to Hastings.
Ms Rush also said Mr Shayler "immediately felt guilty" about leaving work.
"Your behaviour is totally unacceptable to the company. As a result of your misconduct, the company's trust and confidence in you as an employee has been irreparably damaged."
At the hearing, Mr Shayler submitted that the disciplinary process had been rushed.
He also said his partner hadn't been given a chance to explain she had misled him about the funeral.
But in his ruling, authority member Kenneth Anderson said he "could not accept that position".
He found that Mr Shayler had misled Ms Rush and that Rush Security had acted as a fair and reasonable employer.
"The reality of the situation is that there was not a funeral; in fact his partner's aunt died about a year before and what was going to occur was an unveiling ceremony," Mr Anderson said.
He found that Rush had acted as a fair and reasonable employer.