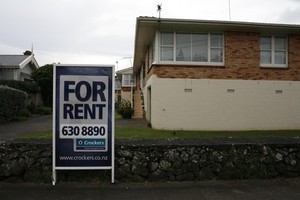 With good reason there is a lot of doubt about official numbers lately be it Budget forecasts, inflated returns, IMF reports, Standard & Poor ratings or media reports regurgitating the figures and accepting them at face value.
As we enter a new economic reality caused by burst bubbles, geo-political power shifts, and policies that have proven either misguided or misalignment with public interests, it seems everything is suspect.
Unfortunately, I didn't really help this situation when I reported last week that rents were over-valued by 43 per cent.
A big apology to readers on that front. I'll spare you the lengthy explanation behind the blunder.
Understandably, the article struck a nerve with readers who reacted in defence or else horror at suggestions renters were getting such a raw deal.
Going off the International Monetary Fund's report, which in actual fact related rents to housing prices, it would appear that rents aren't so extreme in New Zealand.
Whether you believe rental markets are over, under or fairly valued right now whilst important, neglects an equally if not more important part of the discussion on rent affordability; and that relates to wages which have long been recognized to be low.
Read this report by Radio National on the growing debate over increasing the minimum wage.
For a number of reasons, the markets are mercurial and it is incumbent on home owners or property investors servicing mortgages to build a better appreciation of the volatility.
Renters, particularly those hoping to get into the housing market, will do well to pay attention to those movements; however they'll be arguably better served by understanding the constraints of personal income to meet fortnightly obligations.
See also this article published in the New York Times on the narrowing gap between home buying and renting is narrowing.
How much is too much?
There are no hard and fast rules on what percentage of income should be spent on rent as individual circumstances are unique. Income, debt, expenses, savings levels, family ties and community features all feed into the equation.
As a general guide, some suggest no more than 30 per cent of gross income should be spent on housing including related expenses such as insurance, power, phone and maintenance.
On that basis, there's not many who will be able to make the rent and live in house that isn't cold, leaky or a very long commute from work.
Median rents in New Zealand (for a three bedroom house) are running at $320 a week right now not including related expenses. At 30 per cent of the average New Zealand monthly earnings of $3,988, you'd be looking a rental property of $299 per week (before the additional costs of insurance, power and a phone line) to stay within budget.
On a more generous income to rent allowance of 36 per cent, those on an average wage in New Zealand would come close to a break even point on rent provided they had low or no debt and not too many mouths to feed.
Gender gap in pay
Females living on their own could have a harder time of it.
Average monthly earnings for full-time working women in New Zealand are about 18 per cent less than men, according to Statistics New Zealand.
While the disparity has to do with different jobs occupied by the sexes, research suggest women are paid on average 90 per cent of what a man earns for the same job. See an article by Australian lecturer Ben Spies-Butcher on gender inequities in pay and savings.
An allocation of 36 per cent on rent on the average monthly average earnings of a woman ($3,560 before tax) would roughly square up with an average rent of $320 per week but extras on top of that would blow the budget.
As reality seldom matches expectation in life - and in rental property aspirations - what you can afford and what you get in return may be sadly out of alignment.
That's where the 30 per cent guide may go out the window. It could be that 40 per cent of income on rent (if other spending sacrifices are possible) will provide a better quality of life, for what that's worth.
Debt and financial goals also factor into that equation.
Getting rid of debt, saving for a holiday, a deposit on a house or some other goal could mean that income to rent should be lower than 30 per cent although any lower and I imagine you'll be flatting with college students or living at home.
So is the grass any greener in Australia?
According to the New Zealand Institute of Economic Research, on the basis of disposal income, it's a hands down victory for Australia.
The think tank calculates that average weekly wages are 40 per cent higher. See more on NZIER's analysis here.
To calculate relative after tax incomes in New Zealand and Australia click here.
So how does that stack up compared to rents? Obviously, it depends on where you're living in Australia and a pile of other factors, both monetary and non-monetary.
For example, in Brisbane City, average rents for a three bedroom home are A$390 per week, the Sunshine Coast A$370 and Perth A$380. See weekly median rents in Australia here
Given that average wage in Australia is (according to the most recent data available) A$1,380.80 (gross) weekly rents were seem to have a more comfortable margin for paying the bills as well. This means rents cost around 28 per cent of income in Australia. (For more detail on wages in Australia see the Australia Bureau of Statistics)
At the end of the month, where that all leaves you comes down to personal choice, income, debt levels and lifestyle. On all those accounts average probably doesn't exist.