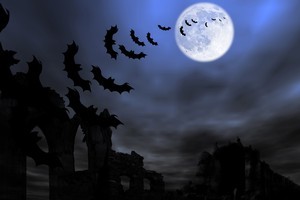 No, 'dark orders' is not the satanic priesthood.
I thought that at first until this report from the Technical Committee of the International Organisation of Securities Commission (IOSCO) updated me.
IOSCO's 'Principles for Dark Liquidity - Final Report' clarifies everything.
As we all know "a dark pool refers to any pool of liquidity that can be accessed electronically and provides no pre-trade transparency regarding the orders that are received by (i.e. reside in) the pool".
And into the dark pool dive dark orders, which, IOSCO defines as "an electronic order that can be automatically executed and for which there is no pre-trade transparency".
IOSCO notes that there's always been a measure of darkness in the markets - deals done upstairs, behind closed doors - but dark orders have only taken off "with the growth of electronic trading".
Markets are supposed to be transparent to all in order to function efficiently, the theory goes. By yelling (or the electronic equivalent) out our buys and sells in public, order is imposed on the chaos; the price is right(ish).
But the dark orders undercut this principle somewhat.
"... there is the potential that the development of dark pools and use of dark orders could inhibit price discovery if orders that otherwise might have been publicly displayed become dark," the IOSCO report says.
The dark process is typically used by large institutions - they have their reasons - but even sophisticated market players can trip up in the dim light.
"Lack of information about the operations of dark pools and dark orders may result in market participants making uninformed decisions regarding whether or how to trade within a dark pool or using a dark order," IOSCO notes.
According to the report, the dark orders are spreading quickly around the globe, even catching on in Australia where at least two dark pools have opened.
New Zealand didn't rate a mention in the IOSCO report but the darkness may already be descending - how would we know?