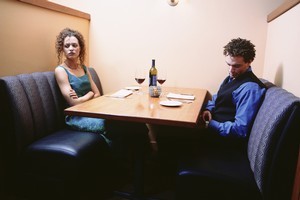 It has been several months since I wrote about customer service. However, I had such a bad experience recently that it's prompted me to write again.
After reading the following, think about the impression your company is making on its customers. From the first point of contact, to the display and offering of your products and services. Make them work positively for your business.
Now, the story.
While visiting Sylvia Park, my husband Steve and I deliberated about where to eat lunch. Steve suggested Wagamama, but with its uncomfortable seating, unfriendly staff, and food you wouldn't rate, I had sworn never to go there again. However, Steve prevailed and in we went. It was a quiet time for the restaurant with less than 10 diners.
When my bowl arrived (Steve's about seven minutes later), I wasn't happy with the portion size. Some people might just accept this and not say anything, speaking instead with their wallet by never returning. I however, decided to say something; nicely.
The waitress's response was "you ordered off the lunch menu. The servings are small".
When I suggested that mine was unusually small (less than a fistful of noodles) she just shrugged her shoulders and suggested I order off the regular menu. By the way, one of the diners who heard the complaint was a staff member having lunch. When we left to pay our bill, she gave us several dollars off my meal without us asking.
Okay. You might think I'm one of those complaining customers you don't want anyway. First though, I ask that you see the experience through my eyes, beyond my small food complaint and look more broadly at the entire customer experience Wagamama presented that afternoon.
Again - take these points; layout, staff, ambience, and think about the similar points for your business or customer interactions.
Restaurant layout. The whole concept of this chain is conducive to getting as many people in, (as uncomfortably as possible) with little regard for ambience, noise or privacy.
There are a few booths lining the walls and the rest of the restaurant is room width long rows of tables. This seating might be great for a Hofbräuhaus in Munich, but when you're paying $20 for a meal, you might want a different atmosphere.
For anyone in professional services having customers at ease and relaxed is a critical part of the overall customer service. How is your waiting room set up? Do you have adequate seating and is it comfortable? How about parking? Is the lighting good? How about noise, volume of the background music? Acoustics?
Staff dress. Call me old fashioned but Steve and I were appalled by the inappropriate dress of the waiting staff. The two staff we had contact with wore very short shorts. Not a problem. But one had runs in her stockings, and the other, had shorts so short the top of her stockings were in full view. Does your business have a dress code? Is there anyone monitoring it? Are you sure your staff is keeping in line with company standards when management isn't there? Is the way your staffs present themselves giving a good impression of your business?
Greeting/Attitude. Hardly a welcome, nor a smile. One menu given for two people.
How does your business greet customers? Has everyone been trained to greet customers politely, whether in person or on the phone? Do they go that extra mile to make people feel special? Is staff courteous, warm, and hospitable? I would say 9 out of 10 places I go - from doctor's surgeries to supermarket checkouts, a warm greeting is missing.
Service. They have a weird system for ordering at Wagamama where an unfriendly waitress invades your personal space to mark down an 'x', or underlines items on your menu.
It's simply plain rude! Group (2 or more) orders are not delivered together. Looking around I saw several pairs of customers like us, where one had their meal and the other didn't, even though there were three chefs working at the time. Poor customer service is simply a missed opportunity to excel over your competition. How well trained is your company's staff to deal with customer demand?
Management control. Staff with poor attitudes, improper dress, complaints occurring, meals not going out together. Where the heck was the manager that Friday afternoon? Their location ensured a lot of people pass the front door. With a noon time lunch crowd milling about - someone should have been at the door, inviting in potential diners like they do in Europe.
Complaints. Mine was not initially handled well.
How much control is given to staff? What is management's attitude towards complaints? To improve word of mouth and keep customers coming back, it's vital to rectify problems promptly.
In closing most activities to improve the customer experience are painless and cost free. If only all the managers and business owners would accept that a good experience grows revenues while a poor one reduces them. Then we'd see a great change.
Debbie Mayo-Smith is a bestselling author and international speaker.
Debbie Mayo-Smith Facebook Business Page