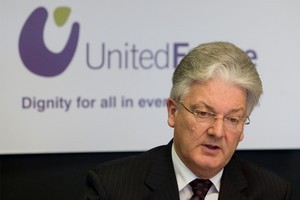 Revenue Minister Peter Dunne has slammed reports claiming dairy farmers are paying less tax than the average wage earner.
Labour revenue spokesman Stuart Nash yesterday released Inland Revenue figures showing 17,244 dairy sector entities, including companies, trusts and individuals, paid only $26 million in tax in 2009, the Dominion Post reported.
That averaged out to $1508 per year - far less than the amount paid by a person on a $50,000 wage.
But Mr Dunne said comparing dairy farmers' tax bills to those of the average workers was "an inexcusable fudging of turnover and income".
He said the 2009 figures were taken in a difficult year when lower profits meant less tax on dairy farmers.
"The particular instance cited was for 2008-2009, when dairy farmers received significantly lowered Fonterra pay-outs, and were servicing very high debt levels across the sector at high interest rates.
"Federated Farmers has stated that the average dairy farmer made a $50,000 cash loss in that year. In that case, pointing to $500,000 incomes is patently ridiculous. Again it is the difference between turnover and profit."
He said $119.3 million was allocated over four years in the 2010 budget to clamp down on tax evasion.
PriceWaterhouseCoopers chairman John Shewan yesterday told Radio NZ dairy farmers were not necessarily wealthy and were subject to the same rules as every other taxpayer.
"I get tired of everybody saying that business people and farmers write off all these personal assets, well they're not allowed to, if they do sooner or later they'll get caught and that's called tax evasion."
"People see people driving round in trucks and large cars and having large lots of land and they assume people must be wealthy for that reason, unfortunately when you look at the balance sheet of many of these operations it's clear that they're not very wealthy at all."