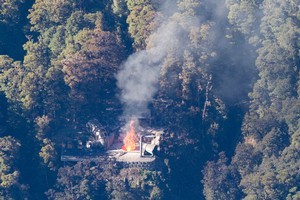 Former Pike River Coal managers have hired top defence lawyers to protect them against accusations they caused the mine disaster that killed 29 of their colleagues.
Police and the Department of Labour have launched investigations into what caused the explosion that ripped through the Pike River mine on November 19.
A Royal Commission of Inquiry into the disaster is set to begin again in July.
George Colligan, who trained staff at the mine for almost a year, told Radio New Zealand this morning he had hired top defence lawyer Greg King to represent him and four colleagues because he was worried Pike River Coal would blame them for the disaster.
"I've done nothing wrong. But when you're a one man operator against a big company - what do you do? Wait until you're already in the corner. It's too late then.
"We can make them answer the questions now."
Neville Rockhouse, the mine's safety and training manager and father of dead miner Ben Rockhouse, has also hired a criminal defence lawyer, Radio New Zealand reported.
It was likely his reputation would suffer during the investigations into the disaster and he wanted protection, he said.
"The conduct of individuals may come into questions but so be it. To get to the truth, some reputations may need to be tarnished.
"At the end of the day, I don't think I've done anything wrong and I don't think George has done anything wrong."