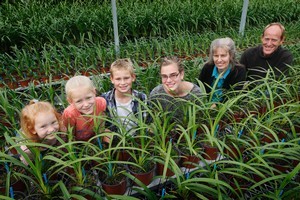 A South Auckland family who have been getting about $20,000 a year from Working for Families say the Government should take it off them.
Christian home-schoolers Joe and Annemieke Sonneveld have six children aged 17, 15, 14, 9, 7 and 4. The eldest, Suzanne, is studying at Manukau Institute of Technology under the Government's free "youth guarantee" scheme but the other five qualify for tax credits as long as the family income is less than $148,991 a year.
But Mr Sonneveld, 47, who runs an orchid-growing business with his twin brother Gus, says the family own their Drury property debt-free and do not need a taxpayer subsidy.
"Some years I think it was something like $20,000," he said.
"We have saved the money just for investing. We bought some land. Some of the money has gone back into the business so we can compete in an increasingly competitive market.
"In all fairness, in the last four years the business cost a few million dollars - we can't actually set up a business from family support. But we certainly haven't needed it."
The family live frugally.
"We are prudent savers. We don't live it up," Mr Sonneveld said.
He and his brother grew up in a flower-growing family in Holland. They came to New Zealand in 1986 with "quite a lot of savings" and "lost everything" in their first three years here as interest rates skyrocketed to about 25 per cent.
"The only thing I learnt at that time was don't get into too much debt.
"We were working really hard but not making any headway because the interest rate was killing everything we earned. So then we flogged off some land. By the age of 30 we were able to pay off all our debt, and from then on God has blessed us incredibly."
He believes the Government needs to learn the same lesson.
"If they don't balance the books we are just passing on the debts to our children. We are just living it up and they are going to pay the bills for it.
"We need to be prepared for tougher times and I think for all of us that means living within your means."