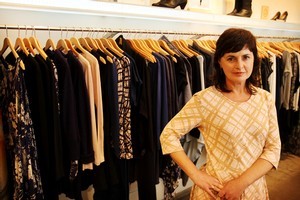 Wellington fashion company Starfish lost a third of its business when the Christchurch earthquake struck.
Its Cashel Mall store was in the maelstrom of it all.
Stock was damaged, the store was forced to shut and the staff had to be laid off a few weeks later.
"It was my bluest day in business," says designer/director Laurie Foon.
Her valued Christchurch manager, Anita Feron, had the trauma of witnessing casualties in the earthquake. She was made redundant and her house in Christchurch was uninhabitable.
But Foon put the word out around the country for a new store and she had a piece of luck.
She was offered the Wallace Rose store at 186 Ponsonby Rd on a three-month lease.
Foon was able to retract Feron's redundancy and offer her the Auckland manager job. Starfish already had a store in Osborne St in Newmarket.
"It was fantastic that we were able to transfer Anita to Auckland as she really has been a fantastic asset to the Starfish team," said Foon.
Meanwhile, Foon and her staff needed to get as much out of the damaged store as possible for the new outlet.
"We were on our knees. We had this wonderful opportunity in Ponsonby but could not start the shop without getting the stuff out of Christchurch," said Foon.
The director said her medium-sized SME was not insured for business interruption. It was on her "to-do" list from the previous earthquake.
Feron went back into the Cashel Mall shop and pulled out what she could - stools, clothes, manikins, the computer hard drive. She was allowed to fill two wheelie bins.
The expensive curtains from the store were used on quake day for the injured and deceased. "I loved that my curtains were used well," said Foon.
With the Christchurch store closed, Starfish stockist Rouche, in Merivale Mall, has been Starfish's main outlet in Christchurch.
The Starfish Wellington store also picked up business.
Wellingtonians had real survivors' guilt from the quake, said Foon.
She has taken part in three fashion fundraisers for Christchurch so far.
Losing the Christchurch store overnight was undoubtedly the biggest challenge the 18-year-old business had.
With 20 staff to support, Foon has come a long way from her start as Jive Junkies at Wakefield St market in 1991, then launching as Starfish on March 3, 1993.
"The women that we sell to are very busy, professional, creative type of women," said Foon.
"The clothes might be worn to work, at night and to pick up the kids from school and in the weekends. We are really about clothes that are going to be around for a long time."
Her customers were women with a conscience. "She wants clothes that work for her but doesn't want to do it at the expense of the environment.
"They need to know that the clothes are going to work for them. We really take on women's bodies and needs. They are not designed for a model," said Foon.
The clothes are priced at around $200 to $400 a garment, possibly $500 for an outfit. "They are made in New Zealand - it's important to keep as much money in New Zealand as possible," she said.
"We carry an eco-folder in all our stores that allows our clients to see the organic certifications, dying and printing standards, fabric information on garments we can trace."
It was important that new designers were supported so New Zealand did not end up in "chainstore valley".