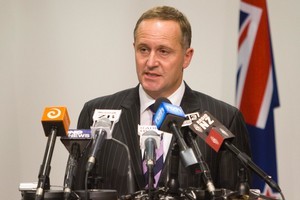 We can't compete with our neighbour's vast resources so what we're looking for is how Key and English see us prospering in its shadow The conundrum facing the New Zealand economy with regards to our larger and more successful neighbour was illuminated for all to see when the Australian Federal Budget was announced on Tuesday night.
Australia is budgeted to return to surpluses in 2013 (well ahead of New Zealand and its international peers), it enjoys a material real wage differential relative to New Zealand which is likely to increase, it has a strong dollar that attracts and retains labour and it has a resource sector that continues to grow from strength to strength.
The differences between the respective economic positions of New Zealand and our transtasman cousins were further illustrated by Prime Minister John Key in a speech this week. His sentiments were in the realm of truisms but lacked the optimistic vision Australian political leaders can justifiably afford.
There is no doubt that Key's speech, while containing the usual platitudes of a pre-Budget soft-sell, had a strong degree of logic from a business perspective.
Sentiments such as "making sure we have a tax system that encourages work and savings, rather than providing incentives to shelter income" and "having an efficient public sector that doesn't crowd out the internationally competitive parts of the economy" are all right and hard to argue with.
Ditto his desire to limit government debt, reduce our reliance on foreign lenders and have an education system that produces skilled workers who have a successful future here - not across the Tasman.
Let's, however, reflect on the New Zealand context in light of the Australian Federal Budget. The individual initiatives in Treasurer Wayne Swan's Budget, particularly the tax initiatives, are neither transformational nor unique.
We should expect the same from Finance Minister Bill English next week - certainly from a tax perspective, with relatively minor initiatives that don't necessarily warrant Budget night notoriety.
The upshot is that any competitive tax positioning between Australia and New Zealand will not, this year, be fought out in the annual Budgets.
Differences will remain largely static and at the margin, notwithstanding that in each individual case they can make material differences.
The differences that really matter are the respective economic positions of each country, and these provide the context through which New Zealanders need to view Budget 2011.
That is, will Budget 2011 give us confidence that New Zealand can prosper in the shadow of our nearest neighbour whose economic train is clearly preparing to leave the station?
So, what's the path for Key and English to take?
Annex ourselves to Australia? Not a bad idea if you are retired, although arguably short-sighted if the goal is to grow an economy in New Zealand and certainly defeatist.
Are we destined to be Australia's call centre? While that's an emotive concept it needs to be asked whether this realistically should be a principal part of our reason for being, to service in various complementary ways the Australian economy.
Finally, to what extent is the answer around selling unique Kiwi intellectual property or products extracted or grown from our natural resources (ie, commodities)?
The obvious initial solution is to return to the "truisms" in the Prime Minister's speech. What we should be looking for, however, are initiatives that give us confidence that those truisms will materialise.
And in terms of the Prime Minister's laudable objectives, what about adding a few more? New Zealand needs to encourage head office activity to either come here or stay here, attract and retain high net wealth individuals to base their operations from here. Consistent with this, New Zealand needs to keep up-and-coming entrepreneurs in this country.
Just how the Government does this in a borderless economic and information age is the question.
What needs to be delivered in next Thursday's Budget is a clear articulation (through a process of reforms) of a destination that we aspire to. And one that is attainable.
The Australian Federal Budget clearly defines that country's economic destination, and shows that it is largely imminent.
-
Thomas Pippos is managing tax partner at Deloitte