Christchurch recovery is a job that called for a top CEO.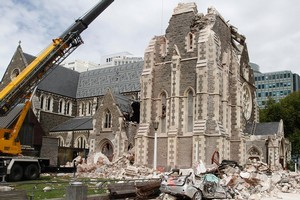 CEO wanted: Must be able to work with multiple stakeholders to co-ordinate a new city plan for Christchurch, reclaim its position in the New Zealand economy, attract new investment, and make its people and visitors feel good about the city once more.
That could have been the advertisement for the job of leading the new Canterbury Earthquake Recovery Authority (Cera). The appointment was announced yesterday, with the job going to Roger Sutton, chief executive of power company Orion.
The authority, now headed by interim chief executive John Ombler, Deputy State Services Commissioner, has been given wide-ranging powers to relax, suspend or extend laws and regulations in order to rebuild the city over five years. Its head will work alongside the Christchurch City Council and other agencies.
Marc Burrage, executive general manager of recruiting company Hudson NZ, says the job will have three streams: a government/regulatory one; a commercial side, requiring management and corporate skills; and last, a community/humanitarian responsibility.
In essence, it's essentially a project-management role, says Burrage, speaking before Sutton's appointment was announced.
It calls for someone who is very good at managing stakeholders - and because of the disaster, "everything is intensified". The CEO must be emotionally invested to a great degree, a strategic thinker and capable of rolling up their sleeves and mixing with all kinds of people, he says.
"What a great opportunity to be able to sit down at the end of the work and say, 'I led the recovery of Christchurch'," says Burrage.
The best leaders surround themselves with great people and that is what this CEO must do, he says. "It's about understanding how to utilise resources."
It's not that one person needs to do it all, but they will need a strong personality and a collaborative style, he says.
Bill Luff, the outgoing chief executive of the Canterbury Development Corporation, believes the permanent CEO position at Cera will be by far the most complicated and large-scale role any executive has ever had to perform in New Zealand.
Luff, who is soon to become head of external affairs at Solid Energy, says the new head of the authority will need a deep understanding of Christchurch. Luff reckons they needed to be a Cantabrian, or else they would lose valuable time establishing their credibility with the local community before getting on with the job.
"The level of engagement with stakeholders is the richness of this job," says Luff.
In this case, the stakeholders include Christchurch residents, visitors, and people and organisations with specific interests. These include a huge range of groups, from commercial organisations to health and arts advocates. "They are waiting because they've invested their time and capital, and they've got to be very carefully considered," says Luff.
There are some fundamentals the new incumbent must get right. He must be able to make decisions in a socially adept way so people feel engaged and that they are being listened to. They should feel that what is being proposed is better than what existed.
"This person's going to have to have a level of credibility that rises above the political - it will be about that person's values," says Luff.
Engineering consultancy Beca is one of the New Zealand businesses which has been involved in the aftermath of the Christchurch quake. It has an office of 230 people in the city and its group chief executive, Keith Reynolds, is head of the infrastructure response team in the BusinessNZ Major Companies Group that was put together in the wake of the disaster.
What the Christchurch community and the rest of New Zealand needs is "certainty, hope and confidence", says Reynolds.
"There are so many companies and individuals who have got a wonderful will of intent. With that goodwill, we have to think about how can we best work together, co-ordinate and grasp the wonderful opportunity before us."
He says most overseas cities which have recovered successfully from disasters have had a central delivery organisation. The very fact that Cera has been set up is encouraging, he says.
Speaking before the announcement, journalist Rod Oram said the lack of a permanent decision-maker was starting to take its toll.
It was evident that some things were being done too quickly while other things, such as insurance-claim responses, were being done too slowly.
He said the level of frustration was becoming extreme in some quarters.
While the Government will be putting funds into Christchurch, attracting private-sector capital is necessary.
"But that will happen only if there is a compelling vision of what Christchurch is to become," says Oram.
BusinessNZ CEO Phil O'Reilly jokes that it might have been better if the new chief executive was Australian, because he will be making some unpopular decisions in the next five years.
Joking aside, "you do need to understand Christchurch", he says. "We are not rebuilding Christchurch, we are re-creating it."
If the new CEO is to succeed, they must make some brave decisions, he says. "They have got to be a person who is capable of reaching decisions and moving forward on less-than-perfect information.
"In other words, you've got to be Superman."
Gill South is an Auckland freelance writer