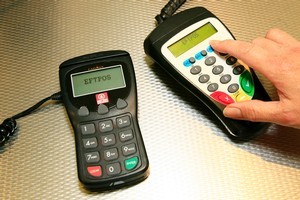 Tens of thousands of eftpos transactions were declined during a service blackout across New Zealand tonight.
Paymark is responsible for eftpos in New Zealand and its spokesman, Paul Whiston, says the outage occurred because a switch which fields transactions failed at about 6.20pm.
The company processes more than 75 per cent of all electronic transactions. Mr Whiston said about half of their customers would have been affected by the blackout.
"On your average Thursday night, with people shopping and buying pizza I'd guess we'd process 60 or 70 transactions a second," Mr Whiston said.
He said he was uncertain how many business were affected, but it did not impact every customer.
Mr Whiston said the company was working to establish what caused the switch to blow and that the extent of the blackout should be known by this afternoon.
He said he could not comment about whether companies would be reimbursed for the business they lost during the outage.
The eftpos breakdown affected The Hobbit film crew in Wellington who bought 70 pizzas from Hell Pizza Strathmore during the blackout.
Staff member Ben Casbolt said the runner who was sent to collect the pizzas was forced to pay in cash.
"They come in here quite a bit, we've got a deal with them. That was maybe the fourth or fifth time they've bought from us," he said.
The New Brew Tavern in Albany, Auckland, also experienced the 30-minute blackout and had to ask their customers to use cash or to sign for their purchase because those transactions do not register until midnight.
"It was a bit of a hassle, but we've had this sort of thing before," manager Tina Cronin said.
"We just had to explain to people what happened and they were okay with it."
THE NUMBERS
* Paymark is responsible for 75 per cent of eftpos transactions in New Zealand.
* An average Thursday night has 60 or 70 transactions a second.
* On Christmas Eve there were 120 transactions a second.
* Last year, Kiwis spent $49.34 on average per transaction.