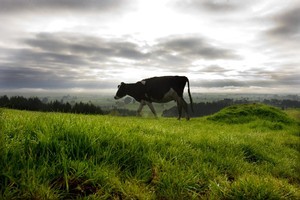 Lenders that over-stretched themselves in the rural sector have been "very lucky" dairy prices rebounded in the past 18 months, according to Reserve Bank Governor Alan Bollard.
The central bank is in the process of increasing the required level of capital to bank farm loans after Basel 2 levels let them drop too low.
Bollard told Parliament's Finance and Expenditure Select Committee the tougher rural lending criteria have been flagged for the past three years and that it should come as no surprise to lenders.
"It's a result of learning from the crisis when, in the lead-up to the crisis at a time when the sub-prime was already out there in the markets, with dairy prices going up, farmers rushed out to borrow and consolidate and banks rushed out to lend," Bollard said.

"It's pretty clear to us and it should be to them as well, that they over-stretched themselves," he said.
"Actually some of them have been very lucky that dairy prices have picked up again."
Last week, accounting firm KPMG flagged dairy sector debt as a concern in its latest Financial Institutions Performance Survey, saying the banks pulled back from rural lending in 2010 and have been managing distressed assets rather than selling them en masse to protect market share.
Westpac Banking's local chief executive George Frazis has targeted rural lending as an area for growth, with that lender lagging behind its competitors in the agricultural sector.
The Reserve Bank's latest Financial Stability Report said farmers have been using record high commodity prices to deleverage, though farm debt remains high.
The price of locally produced raw materials have been breaking record highs in recent months, based on the ANZ Commodity Price Index, and dairy prices have more than doubled since reaching a trough in July 2009.
Milk powder reached an average trade-weighted price of US$4,367 a tonne in Fonterra Cooperative Group's latest online sale and the dairy exporter has indicated it may pay out as much as a record $8 to farmers.