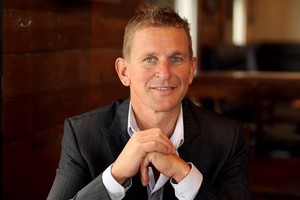 To succeed in the United States it helps if you have your own American president, says text-marketing company Txt2get.
The Kiwi start-up is doing the rounds of US venture capitalists with the help of Silicon Valley veteran Peter Hewitt.
Launched in 2008, Txt2get's DIY text-marketing system for small businesses already has customers in the US but it is looking for funding to do a roll-out there on a much larger scale, says executive chairman Marty Verry.
"That's where the benefit of having an experienced US-based president is so vital," Verry said.
"A Kiwi accent and novelty will get you so far but a lot of it is based on who you know and who can get doors open."
Hewitt plans to invest in the business eventually.
Founded by Verry and fellow entrepreneur Peter Barrett - now based in the US with Hewitt - Txt2get spent two years developing an online service which allows advertisers to set up their own text-message campaigns.
The pair are backed by Rotorua-based private equity firm Eros Capital. A McDonald's campaign illustrated the system's flexibility, Verry said.
The owners of a group of McDonald's restaurants in Wellington were opening a new store and needed to recruit 50 staff. They ran a radio campaign asking candidates to text in.
It received 600 responses - as many applications as they would normally get in a year.
When the new store was open the McDonald's owners used the text campaign to give away free vouchers and changed the offer depending on the time of day.
"The message 'text 244 to McDonald's' stays the same but at the back end it changes in real time," Verry said.
"Because we run a DIY solution it means that people can self-serve and we can have a price point that appeals to the mass market."
The National Party is also its customer.
It had looked closely at how Barack Obama's presidential election campaign used mobile marketing.
"The lesson has been learned that you need to have direct contact with as many people as possible," said Verry.
There were other text marketers around but none had a DIY model so they were more expensive, Verry said.
Some marketers in the US had a DIY component but a unique element of Txt2get's system was that it allowed the advertiser to email respondents automatically when they supplied their email address.
"That is crucial because with reply emails you're also getting into their computers."
It meant the advertiser could then distribute other material to consumers such as brochures, catalogues and application forms. The system could invite respondents to join a Facebook group and also incorporated QR codes - crossword-like panels which some mobile-phone users could scan to be connected automatically to a website.
It was early days for the codes here but they were big in Japan and were becoming more popular in the US, Verry said.
"[Txt2get] is very much the connection between traditional media and online media but also giving people the opportunity to triple their response rate," he said.
Txt2get's backers have big plans for the company.
Its servers in Wellington have been built to be scalable.
With 12 staff currently, the firm probably needs another 20 to get it to profitability.
It will then look to raise further capital.
Its founders' ultimate aim was to achieve a major exit, Verry said.