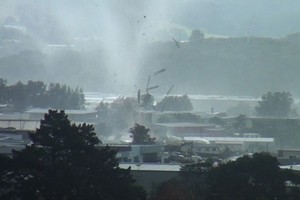 A deadly tornado that tore through North Shore yesterday caused "tens of millions" of dollars in property damage, the Insurance Council claims.
The twister hit Albany, about 15km north of the Auckland Harbour Bridge, just before 3pm, killing one person and injuring 14 others.
Roofs were ripped off houses and commercial buildings in the suburb's commercial centre, trees were uprooted and cars were turned on their sides.
Insrance Council chief executive Chris Ryan said assessors were in Albany today looking at the destruction.
"It's still a little early to put a precise figure on the amount of insured loss suffered as a result of the tornado but I'd expect it to be in the tens of millions given the severity of the event. Dramatic video footage tells us that the cost will be reasonably high once all claims are in."
Mr Ryan said the expected influx of claims from the tornado would further stretch an insurance industry already reeling from paying out for flooding in the Hawkes Bay and the Christchurch earthquake.
But he was confident there would be enough cash to cover repairs to commercial and residential buildings.
He encouraged those who had suffered damage to their property to record damage and to make their property watertight so they don't suffer flooding.
Commercial and residential damage
Meanwhile Civil Defence today said four commercial properties and 23 residential properties have been damaged - 20 of them in Roseberry Avenue, Birkenhead, including one residential property that has been declared uninhabitable.
Emergency accommodation had been provided overnight at the North Shore Event Centre, however Civil Defence spokeswoman Kiri Maxwell said no one stayed the night at the stadium.
The North Shore Event centre Welfare Centre emergency welfare centre is now closed, but anyone requiring welfare assistance can still call 0800 463 010.
Checks on Albany mall
The Albany Mega Centre and Westfield mall are cordoned off this morning as surveyors check to see if buildings are safe so staff and shoppers can return.
Severely damaged cars are still dotted around the carpark where they were left in the wake of yesterday's tornado.
Shop staff have turned up for work this morning but are still waiting for the shopping centres to open for business. A meeting of shop owners is due to take place at 11am.
Cordons remain in place around Westfield Mall and parts of the Albany Mega Centre. No decision has yet been made on when the mall will reopen.
The director of the Westfield New Zealand, Justin Lynch, said structural checks are being undertaken after the building suffered damage in the tornado.
"We have been working closely with the local authorities to ensure the centre and surrounding environs are suitable for public access."
Civil Defence controller Clive Manley says heavy machinery will be required to make the shops safe, so recommended people stay away.
He said building inspectors are continuing to assess the damage to commercial and residential properties.
"We are working with engineers and police to check all the Albany Mega Centre commercial buildings. We will open these up to the public over the next couple of hours in incremental phases. Public safety is our number one priority."
"The biggest challenge is really just making sure all the loose debris and stuff that's lying about is picked up and everything is made safe, and obviously getting the whole Mega Centre back going again so business can resume again quickly."
Pak 'n Save in Albany is unlikely to reopen today with Foodstuffs saying the store has suffered some damage to the roof. Owner Paul Blackwell said structurally the supermarket is sound but reopening depends on the police cordon being lifted.
Police report 55 cars remain stranded in the area and owners can retrieve them at the Police Command Vehicle centre set up at the Albany PlaceMakers or by calling the North Shore Policing Centre on 09 4775000 to leave their name and contact details.
Meanwhile North Harbour Stadium, which is right next to the Albany Mega Centre, has escaped unscathed, stadium chief executive Craig Goodall said.