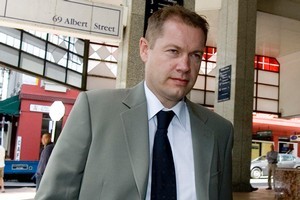 Former Nathans Finance director John Hotchin has begun giving evidence against three of his former colleagues at their High Court trial on Securities Act charges.
Hotchin was earlier this year sentenced to 11 months home detention, ordered to do 200 hours community work and ordered to pay $200,000 to the receivers of Nathans Finance after admitting similar charges laid following the failure of the conmpany.
Today he went into the witness box to give evidence against Kenneth Roger Moses, Donald Menzies Young and Mervyn Ian Doolan, all on trial in the High Court at Auckland.
The accused all deny charges of distributing an advertisement with an untrue statement and of signing a prospectus including an untrue statement.
Hotchin initially denied the charges, then pleaded guilty this year.
Hotchin spent most of this morning detailing how he set up VTL, a vending technology company, with Doolan in the late 1990s, and the formation of Nathans Finance as a financing vehicle in 2001.
The Crown has alleged that documents and marketing letters from December 2006 which painted a glowing picture of Nathans Finance's financial worthiness were completely divorced from the truth.
These included a marketing letter issued just two weeks before Nathans Finance was placed into receivership in August 2007, owing about $174 million to about 7000 investors.
- NZPA