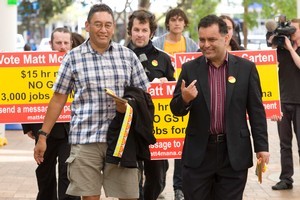 Here's a cheery thought from Willam Butler Yeats captured in his famous poem 'The Second Coming': "Things fall apart; the centre cannot hold."
But, as Matt McCarten details in his recent Herald column, neither can the left nor the right hold - each spinning out into their respective extremities of the Mana Party and a Don Brash-led Act.
In his column McCarten gives Brash a lashing but he does it with "respect".
"I respect both Hone Harawira and Brash," McCarten says.
"They say what they think. They believe what they say. They have a firm vision of the future and are prepared to put themselves on the line."
Indeed, McCarten and Brash even share an interesting business link that both of them probably won't be campaigning on.
As head of the Unite union, McCarten struck a deal in 2008 with the-then Brash-chaired Huljich KiwiSaver scheme to funnel members that way (at $40 a piece for Unite).
At the time it seemed like an odd partnership between bitter political rivals but McCarten wasn't bothered about the anomaly.
I dug up my story about the Unite/Huljich deal to retrieve this quote from McCarten: "Although I would fight [Don Brash and John Banks] all the way on political issues I'd trust them with my wallet."
But I still find it curious that while the two parties might disagree violently on who to collect money from (and how much of it) they're quite happy to invest it in the same way.
Is there no political divide in money management?
As it happened, the Huljich association didn't work out too well for either Brash or McCarten (I could find no mention of it on the Unite site) - sometimes things just fall apart.