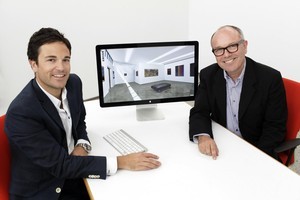 An online auction site that allows customers to buy, sell, browse and track modern and contemporary art from 18 galleries across Australasia in 3D was launched last week.
The site, www.ocula.com, will also feature market news, facilitate private sales and provide real time market data, including comparable sales results through a live feed to the Australian Art Sales Digest, news on artists and exhibitions and reviews.
Users will also be able to share information on their favourite galleries and artists on social media sites through Ocula, create a profile personalised to their specific tastes and receive alerts when works by favourite artists are listed for sale. The Kiwi-made technology was developed by Auckland digital designers Exhibbit.
Ocula co-founder Simon Fisher said the site would become a one-stop shop for art lovers in the way the NZX is for investors.
Ocula has two main categories: works available for sale through individual galleries and an auction site where customers can bid and buy through the site itself.
There are more than 1000 works listed for sale through Ocula's network of galleries. Customers can view the work on Ocula and then go to the gallery to place a bid.
Galleries that are listed on the site include Michael Lett, Starkwhite, Two Rooms, Sue Crockford, Anna Schwartz, the Jensen Gallery and Tolarno.
The site plans to expand the gallery network into the Asia Pacific and South American regions next year.
Ocula's other co-founder Christopher Taylor said the site aimed to be an entry point to the art market that brings the best of modern and contemporary art to one platform.
"We're offering a curated art portal where time-poor collectors can browse through stockrooms and exhibitions of the most influential galleries in the region at any time of day and without leaving their home or office."
Taylor said Ocula was the first auction site to offer 3D virtual galleries that allow the customer to see a painting to scale and how it looks on a wall. The co-founders said the idea for the site came from their own frustrations and that of their friends and clients who don't have the time to visit each individual gallery.
They said collectors could view and track lots from anywhere in the world through the site, at any time.
"It's opening up access to the market and making it more interactive."
Former Australia Sotheby's chief executive Justin Miller said collectors are increasingly choosing to buy art online.
"Ocula offers a curated smorgasbord of fine art spanning the Asia Pacific region."