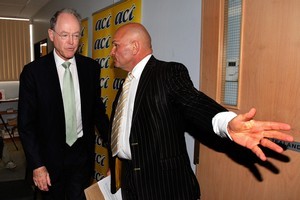 When you talk to business leaders, bankers, fund managers and the like these day, you hear more complaints about the Government than you ever did when Helen Clark was in power.
That's by no means because Labour were popular in business circles. Generally Clark's team were simply viewed as the enemy, so expectations were low.
There seemed to be little point in complaining. Plus there was a market boom, so as long as the Government didn't actively get in the way of things, politics just wasn't much of a conversation-starter.
But there was great anticipation in business circles about the arrival of a National Government led by John Key - himself a market player.
There were high expectations that big changes were coming. Not just change in style and personality, which there has surely been, but bold change for the economy.
Key (and his left-wing opponents) will argue there has been plenty of change and more is on its way. Key would say it is being done in a measured way, at a pace the electorate can handle. In other words, he plans to be in power for another term or two and is playing a long game.
But many in the business community feel let down by the extent of the reforms introduced by National in its first term.
These aren't people who write letters to the editor or tweet and blog their gripes to the world. But they do talk about it over lunch, or coffee or at conferences, black tie awards, functions and the like. They even talk about it with people like Don Brash and John Banks.
The buzz of dissent on the right has been growing for some time. Key and Finance Minister Bill English have been aware of it, but until now have been comfortable that their support in the business world did not have anywhere credible to shift. It now seems they may have been too comfortable.
In economic terms, demand for a credible voice on the right was outstripping supply. It is hardly surprising that Brash, doctor of economics, should recognise that.
He saw an opportunity and with his business partner John Banks (both co-directors of Huljich Wealth Management) he rallied supporters.
As Act leader Brash is freed from the difficulties he faced connecting with the wider New Zealand public.
He no longer has to try and be a down-to-earth Kiwi bloke.
Despite the view his brand has been tarnished in the mainstream by his failed leadership stint with National, Brash is still a star to some.
His tenure as Reserve Bank Governor was regarded as world leading, most specifically in terms of his focus on tackling inflation.
Those covering the Reserve Bank at the time also recall the cult of personality which grew up around the Governor.
That popularity and respect remains very much in place within a highly influential and highly affluent niche of the electorate.
It was his complete confidence in the support of this niche which allowed Brash to move so boldly against Rodney Hide.
Presumably his goal now is to capture enough National votes to ensure they need a partner to govern. He must also ensure Act gets enough support to position itself as the sole coalition partner.
That would force Key and English to make concessions to the right and harden up policy which those business leaders and market players perceive as being too soft.
Sounds simple in theory. But politics never is. There is another interesting dynamic here - the Maori Party.
Given Brash's track record with Maori issues it is unlikely the two minor parties will both be able to work with National as they do now.
Race relations aside, one of the supposed attractions of Act under Brash is that it will refocus on core values of economic reform with less chest beating on social policy issues such as law and order.
Perhaps on that basis Brash won't be so quick to follow his 2005 strategy and engage directly in debate about Maori issues.
The Act/National combination is likely to be unappealing to many centrist voters who might have otherwise supported Key. At least that's an idea Labour will be milking for all it is worth.
Could Key find it easier to hold middle New Zealand in a partnership with what looks like a pretty sensible and centrist Maori party?
Perhaps in typically canny Key style, he would defer to the party with the most votes or seats as the one with the most legitimate mandate to join the Government.
It is an intriguing possibility and one that puts Act in direct competition with the Maori Party for pole position as coalition partner.
twitter.com/liamdann