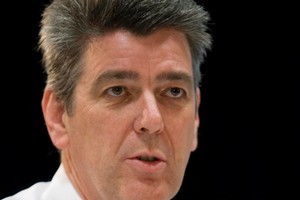 The bosses of New Zealand's biggest listed firms and state-owned enterprises received an average pay rise of 14 per cent in the 2010 financial year, the Business Herald's executive pay survey shows.
For all New Zealanders, the average wage increase was just 1.7 per cent in the year to the December 2010 quarter, according to Statistics New Zealand figures.
The Business Herald survey shows the mean remuneration of the 47 chief executives investigated was $1.6 million in the 2010 financial year, up from $1.4 million in 2009.
In last year's survey, which looked at the 2009 financial year, only Telecom chief executive Paul Reynolds earned a remuneration package worth over $5 million.
In the 2010 fiscal year four company bosses received pay packets of more than $5 million - Westpac New Zealand's George Frazis, Nuplex's John Hirst, Fonterra's Andrew Ferrier and Reynolds, again.
Each of them earned in a single week more than twice what a worker earning $40,000 annually made over the entire 12-month period.
Fifty-seven per cent of the chief executives surveyed, whose pay could be compared to the year before, received pay increases ranging from 1 per cent to 194 per cent.
New Zealand Shareholders' Association corporate liaison Des Hunt says a 14 per cent average pay increase would be "exceptionally high and embarrassing", especially given the performance of many firms.
Around 37 per cent of the companies surveyed reported a fall in profit during the 2010 financial year.
"We'll be looking at each company and looking at their five-year [performance] history against their [executive] pay increases," says Hunt. "Basically, over the last 10 years we've got a feeling that the control of companies has gone to management rather than owners. And if we want a strong shareholder or investment base companies have got to be showing, in our opinion, [that shareholders] are getting equal returns and rewards."
But John McGill, chairman of remuneration consultants Strategic Pay, says the chief executives of New Zealand's largest firms are not overpaid, especially when compared with their counterparts overseas.
"Having done similar [remuneration consultancy] work in Europe, North America and Australia - nope, there's nothing particularly unusual about the pay of senior executives except that it's a bit low."
Jarrod Moyle, director of remuneration advisers Moyle Consulting, agrees, saying: "We've done some analysis in our CEO survey comparing New Zealand chief executives with those in Australian companies and have found that for companies of similar size in terms of market capitalisation or revenue New Zealand chief executives are still paid significantly less than Australian companies of similar size."
The number of company bosses receiving seven-figure salaries fell from 32 to 26 between 2009 and 2010, according to the survey, which takes its data from the annual reports of New Zealand's biggest listed and state-owned firms, as well as dairy co-op Fonterra.
But that's still well up on 2004, when just six chief executives received pay packets worth more than $1 million.
And it's only 10 years since Craig Norgate became New Zealand's very first "million-dollar man" when he took the helm of Fonterra in 2001.
Crowning this year's survey is Westpac New Zealand boss George Frazis, an Australian, who received A$4.3 million ($5.8 million at current exchange rates) last year.
Andrew Campbell, spokesman for finance industry union Finsec, told the Business Herald last year that it was galling to see Westpac give such an extravagant package to its boss while the bank was being underwritten by the taxpayer.
"We think it is unethical to pay such a large salary to one person while the economy falters and the average worker has seen no or limited wage growth," he said.
But at that time a spokesman for Westpac said the A$1.4 million in share rights Frazis received as part of his remuneration package related to previous employment.
"[It] is not part of his permanent salary package," the spokesman said.
In the No 2 spot is former Nuplex managing director John Hirst, who stepped down in April 2010 and received a $2.5 million termination benefit as part of his $5.57 million pay packet in the year to June 2010.
The company's annual report states that during the 2008 financial year the board offered Hirst an extension to his service agreement.
At the expiry of that extension he was entitled to receive "accrued but untaken" annual leave payments, an entitlement in accordance with Australia's Long Service Leave Act, incentive payments, expenses and other "moneys due", the report says.
New Zealand Shareholders' Association chairman John Hawkins says Nuplex's performance over the "last little while" called into question whether Hirst should have received such a large termination package on retirement.
The Securities Commission launched an investigation into Nuplex last year after the regulator alleged the firm and some of its directors, including Hirst, failed to disclose a banking covenant breach to the stock exchange when the information first became available in late 2008.
An out of court settlement was reached in February, which saw the company pay just over $3 million to investors who purchased shares on either the ASX or NZX between December 22, 2008, and February 18, 2009.
"There was a whole series of problems that occurred and whether or not that termination pay took into account any of that we haven't been made privy to," Hawkins said.
Paul Reynolds fell into the No 3 spot in this year's survey, after topping last year's list, taking a 5 per cent pay cut to $5.1 million.
His remuneration package included $338,111 for personal travel between New Zealand and his native United Kingdom, up from $243,950 in last year's survey.
According to the telco's latest annual report, 2945 of its 8629 employees (around a third) earned more than $100,000 during the 2010 financial year, with eight earning over $1 million and 32 over $500,000.
Telecom's profit fell 4.5 per cent to $380 million during the same reporting period.
The Warehouse boss Ian Morrice, who will step down from the chief executive role on May 2, fell from the No 2 spot in last year's survey to 6th place this year, with a remuneration package totalling $2.8 million.
But investors in the retail chain will not learn the details of any termination package Morrice might receive until the firm publishes its next annual report.
The Business Herald was unable to publish the salary of Infratil chief executive Marko Bogoievski, as the company doesn't fully disclose that information.
Infratil's Tim Brown said the full details of Bogoievski's remuneration are not included in the firm's annual report because he is paid by Morrison & Co, the company contracted to manage the listed infrastructure firm.
Only $26,250 he received in director's fees for two Infratil subsidiaries is included in the report.
Asked if he could provide the Business Herald with the details of the remuneration Bogoievski receives for being Infratil's CEO, Brown refused, saying: "I can see what you're trying to do and I can see that's totally logical but it doesn't fit in with this model unfortunately."
Neither would he name the person earning the top payment band - $2,580,001 to $2,590,000 - disclosed in Infratil's latest annual report.
The Business Herald understands it is likely to be a boss of one of Infratil's subsidiaries, which include Trustpower, NZ Bus, Greenstone Energy and Wellington Airport.
Additional research: Owen Hembry