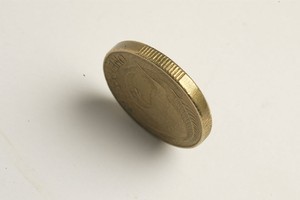 The New Zealand dollar fell against most major currencies as the Reserve Bank's assessment yesterday of an economy that is still fragile continued to weigh on the kiwi.
Governor Alan Bollard yesterday kept the official cash rate at 2.5 per cent, saying the "uncertain" outlook for the economy in the wake of September and February earthquakes meant keeping interest rates at record low levels was an appropriate measure.
The move, while widely expected, comes after annual inflation sped to 4.5 per cent in the first quarter, well above the 1 per cent-to-3 per cent range targeted by the bank, reflecting one-time effects such as the increase in consumption tax.
His comments help reinforce the growing gap with Australia, where economic growth is underpinned by demand for raw materials in China and whose currency has soared to above US$1.09 this week, a post-float high.
The Reserve Bank of Australia's benchmark rate of 4.75 per cent is 2.25 percentage points greater than New Zealand's, making its currency a more attractive bet than the kiwi.
It was hard for offshore markets to remain positive on the New Zealand dollar "when they look at what the Reserve Bank said yesterday and contrast it to Australia," said Alex Sinton, a senior dealer at ANZ New Zealand.
"I struggle to see why there was so little concern on inflation."
The kiwi fell to 80.11 US cents from 80.47 cents yesterday, and dropped to 68.19 on the trade-weighted index of major trading partners' currencies from 68.46.
It declined to 73.36 Australian cents from 73.59 cents yesterday, and fell to 66.31 yen from 65.65 yen.
It fell to 54.03 euro cents from 54.24 cents yesterday, and dropped to 48.11 pence from 48.26 pence previously.
The government is set to release the overseas merchandise trade data for March today, which is expected to show the economy extended its trade surplus to $300 million, according to a Reuters poll, from $194 million previously.
People's Bank of China Governor Zhou Xiaochuan yesterday reiterated China's commitment to making its monetary policy more flexible and targeted in a bid to manage its economic growth and inflationary pressures.
The announcement came after the World Bank flagged a number of downside risks to the world's second biggest economy, notably the potential for a real estate bubble.
The kiwi may trade between a range of 79.28 US cents and 80.25 cents today, Sinton said, with bias towards the downside as traders and dealing rooms square their books for the end of the month.