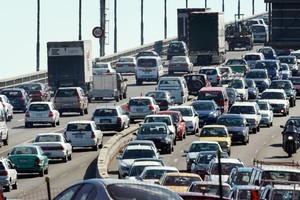 More tolls and fuel taxes are needed to ease the traffic congestion holding up freight vehicles on roads if New Zealand is serious about closing the economic gap with Australia, a report says.
The report released yesterday by the New Zealand Business Council for Sustainable Development proposed ways to increase the speed at which exports could be carted around the country.
It claimed New Zealand had to be smarter about the way it used its roads as freight volumes are projected to increase by 70 to 75 per cent if present growth rates continue.
However, these volumes would have to double if New Zealand was to export the amount of goods needed to reduce the gap with Australia.
The report cited research suggesting a link between the total volume of exports a country sells and the distance these goods have to travel to foreign markets.
To compete with countries closer to these markets, the council said it was essential that New Zealand freight was as streamlined as possible.
It said reducing road congestion was key to this and encouraged the construction of new fast traffic lanes, funded by "time-of-use" tolls with the initial capital coming from public-private partnerships.
These would allow freight vehicles, as well as private cars that paid a levy, quicker travelling times during rush-hour traffic and also help lower the number of vehicles on existing roads.
Motorists would only need to pay the tolls during certain times of the day when vehicle flows were heavy.
"[Tolling] encourages people who have some flexibility when they use the road to move at a different time and those that value avoiding congestion the most will pay a bit more and get access. You're using the road just as intensely, but without as much traffic at the peak period," said Business Council chief executive Peter Neilson.
Despite past opposition to these sorts of user-pays systems, the council said its own polls showed over half of the commuters surveyed would be willing to put forward money if their travelling times were reduced.
"There's a difference between paying for a new road and paying for a road that can definitely reduce congestion. If you're able to get to your destination faster, people are prepared to say yes to that. What they're not prepared to pay for is [tolls on] exactly the same service that they're not happy with," Neilson said.
The report said fuel taxes "allocated to regions in proportion to their expenditure" on roading projects were also an option to fund infrastructure.
The report said particular focus was needed on building fast lanes in the "golden triangle"of freight between Auckland, Hamilton and Tauranga.
Neilson said systems were too "mode-centric" and ports, rail networks, airports and road operators needed to work together to streamline operations. He also said local and central government should work together with freight companies to find a solution to traffic congestion.
Road tolls, parking levies and regional fuel taxes were all raised in an Auckland Council discussion document last month as possible ways to pay for traffic projects.
"Congestion levies" and tolls were raised by Auckland transport planners in 2009 but were bitterly opposed by regional councillors.
MOVING AHEAD
* New Zealand Business Council Future Freight Report:
* Freight volumes to go up by 70 to 75 per cent over next 30 years if growth rates continue.
* If New Zealand wants to close the gap with Australia, the required export rates would more than double freight volumes over next 30 years.
* For every 1 per cent of extra distance exports travel, export volumes fall by an average 2.6 per cent.
* As such, NZ needs to address congestion issues on roads to help streamline transport of exports and boost economic growth.