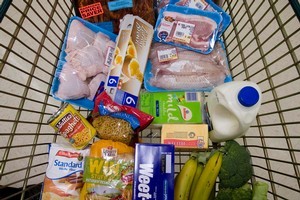 The nation's supermarkets, already the target of dissatisfaction over prices of foods such as dairy products, are to be rated according to their levels of customer service in a new segment on the television show Fair Go.
Monthly checks on customer service in sectors such as banking, airlines, telecommunications, power companies and real estate firms will start tomorrow with a market researcher's survey of 2000 customers at supermarkets.
The customers have been asked if they had a particularly good experience at a supermarket in the past year, or a particularly bad one, and the results will be shown on tomorrow's Fair Go programme on TV One.
A Consumers' Institute survey of 8000 people on the subject a couple of years ago found that Pak'n Save prevailed in price surveys with the lowest prices, but shared bottom ranking with Foodtown for the overall grocery shopping experience.
The main gripe was the limited range of brands and sizes sold by Pak'n Save - the same factor that allowed the chain to order larger quantities of the products they did stock, and cut better deals with suppliers than their competitors.
Pak'n Save required customers to pack their own bags, and did not provide free plastic bags.
Four Square, New World, SuperValue and Fresh Choice rated highly in the Consumer survey - between 84 and 89 percent - for the overall shopping experience they provided.
SuperValue and Four Square - smaller supermarkets which were often the only grocery store in small towns - had friendly, helpful staff and short queues among their strong points.
Fresh Choice, a South Island chain, also rated well for store presentation and layout.
Although Countdown was a discount chain and competed on price with Pak'n Save, the Consumer survey show shoppers felt its stores carried a wider product range. But Countdown, and two of the "full-service" brands, Foodtown and Woolworths, were said to fall down on queuing times by failing to open enough checkouts.
- NZPA